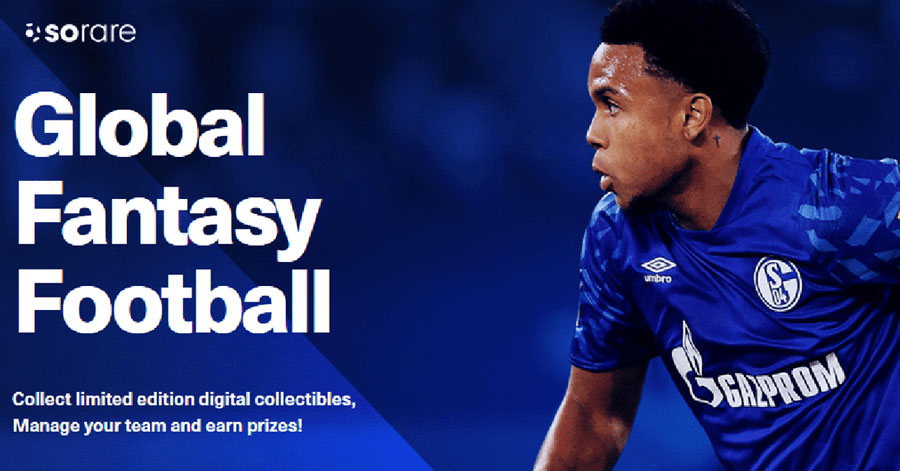 Cryptos first big football fantasy game, and it's free to play!
Pit your skills against the best fantasy managers around the world
Win Ethereum to convert to cash, store or use to buy players
Win rare and unique players to use, trade or sell for Ethereum
Build the best fantasy team and become a football crypto king!
In Sorare you compete against fans globally while collecting & trading rare NFT player cards for real crypto!
It was only a matter of time before a crypto football game came to the Ethereum blockchain and combined with NFT collectible football players. Now for the first time ever you can test your managerial skills against global football fans in Ethereum's first ever football fantasy card game following in the footsteps of popular blockchain collectibel games such as godsunchained.com and f1deltatime.com.
Time to Earn Ethereum as You Manage Your Team!
With Sorare.com, collect super rare and unique player cards by winning competitions and then sell them for Ethereum or trade them for other players. Taking true ownership of your players many are rare or one of a kind with provable owner details on the Ethereum blockchain. Just like you would do business in the football transfer markets as a real-life manager nows the time to get involved with a revolutionary blockchain game.
Sorare is Indeed So Rare!
Taking the football world by storm Sorare is a new revolutionary football management game built on the Ethereum blockchain and it's only just getting started so now's your chance to jump in early and get ahead of the other football fans of the world. Starting your managerial career early gives you the chance to collect the best players before others do!
Currently there are players to win or even purchase from the beginning of your career from famous official leagues such as Italian Serie A, German Bundesliga and Spanish La Liga plus more. The English Premier League has yet to be listed.
Officially Licensed Players & Leagues!
All football cards on in Sorare are officially licensed by the football teams and leagues so getting your feet wet, joining and managing a team is worth your time if you're an aspiring football manager or a fantasy football addict!
5-A-SIDE: The First Official Competition to Start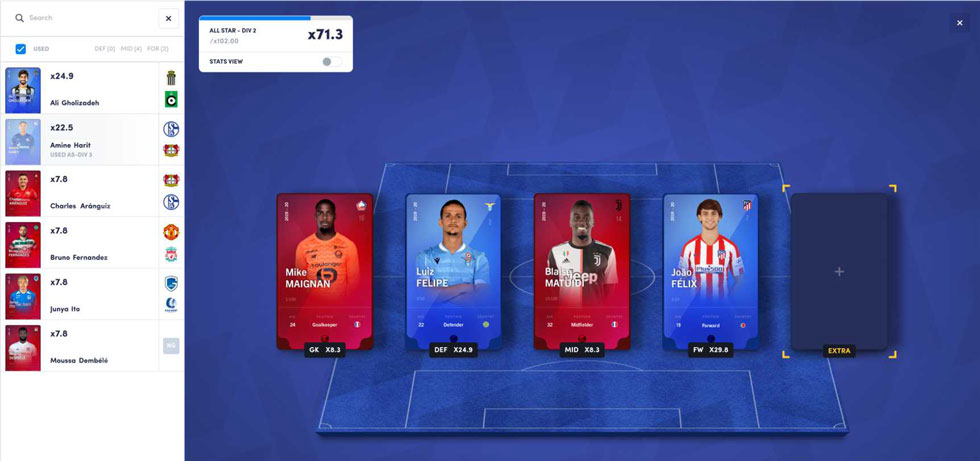 To begin with Sorare have launched their five a side competition. You have to pick ten players to use in five positions in the competition. As you become successful and gain more points you will be promoted to a more competitive division where even greater prizes are on offer. From the start you must choose atleast:
One Goalkeeper
One Defender
One Midfielder
One Forward
The blockchain fantasy football platform have partnered with Opta to track stats on the players and their performances every week so you can be assured all players and cards are tracked with the upmost accuracy.
Major Advantage Over Traditional Fantasy Football Leagues
The biggest advantage Sorare have over traditional fantasy football leagues is the fact that you get rewarded in real value for your efforts through ownership of the cards you collect, win and trade on their transfer market via the Ethereum Blockchain. Their prize pools of Ethereum to win too!
Unlike other fantasy football competitions where you don't truly own any players and are not rewarded for your time spent playing in the competitions unless you ultimately win out of the 100,000's of players that usually compete in them, with Sorare you are rewarded more for your time by being given the opportunity to collect cards (players) that you take complete ownership over forever.
Weekly Prizes
After every game week rewards and prizes are given out in crypto (Ether) and football player cards (rare and super rare). You can then use these prizes and cards to build a stronger team and compete for more prizes the following week. Here is where it gets interesting. Those that truly are pro's can potentially earn a considerable amount from playing Sorare.com.
Even those without the knowledge to manage the optimal global team have a chance as competitions are conducted on a division by division basis dependent on your skills and success, not just one huge league for everyone to have to try compete in.