Original Game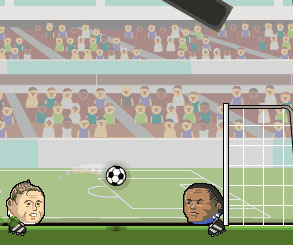 The idea of a couple of cheaply named big headed, limbless, funny faced players heading a ball in either goal being popular amoungst footy fans sounds unreal, but it's actually true and well executed by a popular game dev studio known as Mousebreaker. Controlling the head you have to head to football into the other persons goal while using power ups. Many similar games have been spawned since on the web and on mobile.
The sheer variety of different football games available on the flash game market is quite remarkable though. Many games concentrate solely on the free kick aspect of the sport, whereas others like New Star Soccer or Jumpers for Goalposts tend to offer a mixture of management and match-play features in an RPG-style version of the popular sport. Sports Heads: Football like the tennis edition of the game here https://www.twoplayergames.org/Sports-Heads-Tennis-Open/832.html takes a noticeable different approach, boiling the game of football down to its most essential elements: headers, kicking, and scoring goals, and like the many other games in the Sports Heads series, it is hugely entertaining.
The gameplay involves taking control of a single player that is made up of just a head and a foot and is set up in a tennis-like format whereby you and your opponent stand on opposite ends of a miniature football field in an attempt to direct the ball into the opposing player's net. You use the directional arrows of left and right to control the player's movement, the upwards arrow to make him jump, and the spacebar to make him kick the ball when it is within range. The game alternates between time-restricted matches and also score-based ones that end once a minimum number of goals have been scored.
Making the game more interesting to play is the inventive feature of power-ups that give you certain advantages over your opponent, but that can also give your opponent the edge over you as well. Like the aforementioned tennis version helpful power-ups are mainly coloured in green, and ones that put you at a disadvantage are largely red in colour. Power-ups include freezing you opponent/you in place so that you/he can score a goal unobstructed, breaking of your/your opponent's leg, shrinking of the ball, or even the occasional streaker that tends to get in the way. The power-ups are attained by kicking the ball at them, which can often lead to accidentally collecting the wrong power-up and putting you at a disadvantage. This is all part of the challenge of the game.
With 8 increasingly difficult players to beat, Sports Heads Football is well worth your time, you can play it here https://www.mousebreaker.com/game/sports-heads-football. It should keep you entertained for a good half and hour, and the amusing, caricature-like appearance of the their gigantic heads should have you amused for the entire time. Even the player names have names that are a play on actual names of footballers, such as 'Wine Rooney' and 'Peely'. The amusing set of achievements also adds a little bit more replay value to a game that is already hugely addictive and visually superior to any other game of its type out there.
Super Sports Heads Football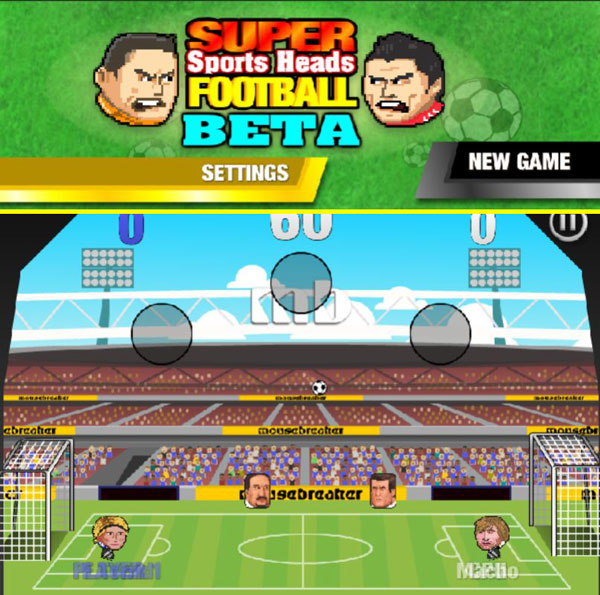 With the 2014 World Cup in full swing, you would think that there is enough football about to keep everyone satisfied, no matter what level of football fan they are. It seems that lots of people simply cannot get enough football however and turn to video games to bridge that gap that apparently still exists in spite of international football being played in Brazil right now.
You could turn to console games but these are expensive, and why would anyone spend large amounts of money when they can turn to the famous Sports Heads series from Mousebreaker, which simulates quick-fire football in a distinctive arcade-style fashion. The latest offering is Super Sports Heads Gold, a game that hopes to take the outrageous giant-headed format of previous Sports Heads game and throw in a variety of different game modes. It was in variety that the previous Sports Heads games were lacking, so does Super Sports Heads Gold adequately offer something for World Cup fans to bite on? If you take a look at Super Sports Heads Gold's gameplay, you will realise that it isn't dissimilar to all other iterations of Mousebreaker's popular sporting series. Regardless of gaming mode, you assume control of a single player that represents an entire team and are pitted against a single player in opposition. You view the action from a cross-section perspective with one goal sitting on each end of the screen inside a miniature indoor arena. Your job is to control your own player by using the directional arrows for movement and the spacebar to kick the ball. Simply score as many goals as possible whilst preventing the opponent from scoring any against you. It all sounds very simple, but is complicated by the fact that you are a giant head with a single kicking foot that must try and prevent a ball that moves erratically and unpredictably around the screen from entering your goal.
Further adding complexity to the gameplay is the fact that there is an arcade element to the whole thing in the form of power-ups that can be collected by kicking the ball at them. If you kick the ball at a freeze opponent power-up, your opponent gets frozen in his spot. There are other power-ups such as ones that make your opponent's goal grow in size, ones that break his leg so he can't kick, and ones that allow you to move faster. Use caution however since picking up the red-coloured power-ups causes detrimental effects such as freezing you in position, breaking your leg, or making your goal larger so it is easier for your opponent to score. These power-ups are identical in nature to the game's predecessors such as the original, though with a few more modes this time around to keep things interesting.
There are four modes in total to speak of in this game. You've got Globe Cup Mode, which is most notable here as it coincides with the matches of the World Cup 2014 tournament. Globe Cup simply allows you to enter into the aforementioned gameplay as a team of your choice, playing through groups much like in the real World Cup. The Champions Cup corresponds to the real-life UEFA Champions League https://www.uefa.com/uefachampionsleague/, letting you once again pick a player that represents the various Champions League teams such as Manchester United, Olympiacos FC, or Man City FC. League Mode once again has the same gameplay only with the difference of playing in various leagues such as the English, Spanish, Italian, French, German, or Classic Leagues. The Classic League is quite a refreshing collection of well-known players that will be recognised by all, but is really just a slight aesthetic variation on the same gameplay. VS Mode is almost the same again, only allowing you to change the teams, the pitch shape, the match type, and the goal size at will.
Is Sports Heads Soccer World Cup worthy of your time when you're not watching the actual World Cup on TV? Well, it's definitely worth a look for newer players that haven't played the game before. The premium nature of the game means that one has to pay a fairly small fee, though it is negligible if you don't have any initial expectations since the gameplay is solid and much like before. For veterans of the Sports Heads series however, the gameplay remains identical to previous iterations of the game, the graphics/design of the game remains almost unchanged (aside from a bit of polish on the menus), and the four leagues merely attempt to disguise the fact that there isn't any real reason to pay money for something that has been experienced before. If players are after a full football experience, they are better off looking at alternatives like the hugely popular I Am Playr https://www.kongregate.com/games/WeRInteractive/i-am-playr because Super Sports Heads Gold is merely a repackaging of old ideas, no matter how fun these old ideas still are to play.