Arsenal 2 - 0 Chelsea
Arsenal

Parlour Goal 70'
Ljungberg Goal 80'

Chelsea
Millennium Stadium, Cardiff, Saturday 4th May 2002
Attendance:73,963
Match Referee: Mike Riley
Team Line-ups:
Arsenal
1 David Seaman
2Lauren
3Sol Campbell
4Tony Adams (C)
5Ashley Cole
6Sylvain Wiltord
7Ray Parlour
8 Patrick Vieira
9Freddie Ljungberg
10Dennis Bergkamp
11Thierry Henry
Manager
Arsene Wenger
Chelsea
1 Carlo Cudicini
2 Mario Melchiot
3 William Gallas
4 Marcel Desailly (C)
5 Celestine Babayaro
6 Jesper Grønkjær
7 Frank Lampard
8 Emmanuel Petit
9 Graeme Le Saux
10 Eiour Guojohnsen
11 Jimmy Floyd Hasselbaink
Manager
Gianfranco Zola
By Colin Malam at The Millennium Stadium Courtesy of The Telegraph Online
NOW CHELSEA know what Arsenal must have felt like when Liverpool's Michael Owen pinched the FA Cup from under their noses here in Cardiff last year. Having been largely outplayed by their fellow Londoners, Arsenal won this poor final with two goals so superb that they belonged to another, more entertaining match. But Arsene Wenger and his men will not worry about that when the first half of the Double is already theirs.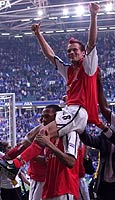 Now, thanks to two wonderful strikes by Ray Parlour and the remarkable Freddie Ljungberg - scorer of seven goals in his last six games - Arsenal will go marching up to Old Trafford on Wednesday believing they can clinch the Premiership title on the ground of their great rivals, Manchester United.
There were two surprises when the teams were announced. Arsenal preferred Parlour to Edu as Patrick Vieira's partner in central midfield and Chelsea put John Terry on the substitutes' bench. No doubt Parlour's battling qualities and greater experience of these kind of occasions were responsible for his selection, while the frightening pace of Arsenal's Thierry Henry made the fleet-footed William Gallas more valuable in central defence than Terry.
Predictably, Chelsea also took a chance on the fitness of Jimmy Floyd Hasselbaink, who had been fighting all week to recover from a calf injury. The theory, presumably, was that although their leading scorer might break down at some point, his deadly finishing could get them a goal before it came to that. There was a place on the left of midfield, too, for Graeme Le Saux, another player who had shaken off a calf injury.
The experience had clearly not lessened the former England international's penchant for recklessness. The match was less than two minutes old when Le Saux was rightly booked for a challenge on Lauren so high and venomous that he nearly cut the Arsenal full-back in half. Indeed, the referee, Mike Riley, had to step in and warn Lauren to behave when he obviously threatened Le Saux with retribution.
Chelsea's gamble on Hasselbaink began to look ill-advised as early as the fifth minute, by which time the striker had the sock rolled down on his troublesome right leg and was not moving as freely as usual. Even so, he still managed to initiate the game's first dangerous attack, floating a diagonal pass towards Eidur Gudjohnsen that David Seaman came out to intercept.
The Arsenal goalkeeper was certainly the busier of the two in the opening phase of the game. Twice - in the 17th and 18th minutes - Frank Lampard let fly from long range with powerful shots Seaman saved with difficulty. Chelsea's Carlo Cudicini, by comparison, was virtually unemployed. The marvellous Marcel Desailly saw to that by blocking a fierce shot from Sylvain Wiltord and intercepting a dangerous pull-back by Henry.
When Cudicini was finally called into action, after 22 minutes, he was nearly found wanting. The Chelsea goalkeeper got himself into no man'sland as Ashley Cole picked out Dennis Bergkamp at the far post with an accurate diagonal centre, and was spared the embarrassment his indecision deserved only because Bergkamp's looping header dropped outside the post.
Disappointingly, the first half did not offer much in the way of entertainment. The play was scrappy, largely because of the fierce tackling by both sides that broke up attacking moves almost before they had started. Commendably, the referee tried to be as tolerant as possible, but he could not ignore the foul by Vieira on Gudjohnsen that earned the Arsenal midfielder a yellow card after 27 minutes.
The best move of the first half came 10 minutes before the interval. Wiltord, to the left of goal, twisted and turned before making enough space to float a centre to the far post, where Lauren had stolen up unnoticed. The Cameroon international looked certain to score as he dived to head the ball, but he sent it over the crossbar.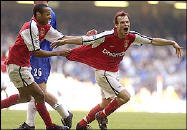 Chelsea made an enforced change at the start of the second half, Terry replacing Celestine Babayaro, who had pulled up in pain only six minutes into the game with what looked like a groin strain but had then soldiered on. Terry went to centre-back while Gallas switched to left-back. They were soon tested, too, Henry collecting a delicately chipped pass from Vieira and poking a shot at Cudicini.
But, as in the first 45 minutes, Chelsea gradually became the more dominant side. As a result, Gudjohnsen almost caught Seaman napping with a shot curled in cunningly from the left. It was going in until, at the very last moment, the England goalkeeper reached up to turn the ball over the crossbar.
Le Saux, though, should not have given Seaman an earthly on the hour. Found in space by Jesper Gronkjaer's centre from the right and centrally positioned just inside the penalty area, the left-footed midfielder elected to have a go with his weaker right foot and succeeded only in wafting the ball high over the crossbar. Similarly, at the other end, Wiltord sliced his shot horribly wide when a pass from Henry offered him a clear view of goal.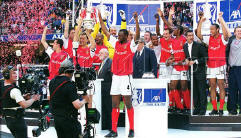 It was in the 68th minute that Hasselbaink finally gave up the struggle against his injured calf, Gianfranco Zola coming on. To make matters worse for Chelsea, Arsenal scored a minute later. A spectacular goal it was, too, Parlour joining a neat Arsenal move through the middle, picking the ball up midway inside the Chelsea half, taking a few steps and then thumping it so hard into the roof of the net from 25 yards that Cudicini's straining fingertips were no match for the shot. Arsenal sent on Edu for Bergkamp after 72 minutes, but, if that was intended as a defensive move, it had the opposite effect, the north Londoners surging further ahead.Cudicini made a fine save to keep out Henry's curling shot before Ljungberg scored Arsenal's second in the 79th minute with a shot the Swede bent round the Chelsea goalkeeper with awesome accuracy.
Round by Round