Everton 2 - 0 Watford
Wembley Stadium, London, Saturday 19th May 1984
Attendance: 100,000
Match Referee: John Hunting (Leicester)
Team Line-ups:
Everton
GK 1Neville Southall
DF 2Gary Stevens
DF 3John Bailey
DF 4Kevin Ratcliffe (c)
DF 5Derek Mountfield
MF 6Peter Reid
MF 7Trevor Steven
FW 8Adrian Heath
FW 9Graeme Sharp
FW 10Andy Gray
MF 11Kevin Richardson
Substitutes
DF 12Alan Harper
Manager
Howard Kendall
Watford
1 GKSteve Sherwood
2 DFDavid Bardsley
3 DFNeil Price Substituted off 58'
4 MFLes Taylor (c)
5 DFSteve Terry
6 DFLee Sinnott
7 MFNigel Callaghan
8 MFMo Johnston
9 FWGeorge Reilly
10 MFKenny Jackett
11 MFJohn Barnes
Substitutes
12 FWPaul Atkinson Substituted in 58'
Manager
Graham Taylor
Road to Wembley:
2 - 0 vs Stoke (A)
0 - 0 vs Gillingham (H)
0 - 0 vs Gillingham (A) (R)
0 - 3 vs Gillingham (A) (R)
3 - 0 vs Shrewsbury Town (H)
2 - 1 vs Notts County (a)
1 - 0 vs Southampton (a.e.t) (Highbury, London)
3rd Round
Replay
4th Round
Replay
Replay
5th Round
Q/Finals
S/Finals
2 - 2 vs Luton Town (A)
4 - 3 vs Luton Town (H) (R)
2 - 0 vs Charlton Athletic (A)
3 - 1 vs Brighton (H)
3 - 1 vs Birmingham City (A)
1 - 0 vs Plymouth (Villa Park, Birmingham)
Match Highlights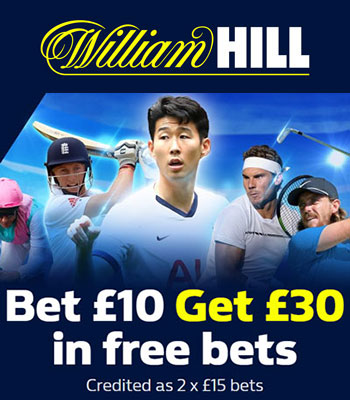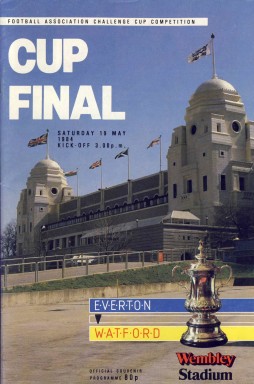 Above: 1984 FA Cup Final Match Programme
Match Breakdown
The 1984 FA Cup Final was contested by two English First Division teams in the form of Everton and Watford. Everton were favourites on the fact that they had finished the league in a credible 7th position. Watford had finished mid-table in exactly 11th position and had lost more matches than they had won throughout the season.
The two teams had already met twice during the season in the league. The first encounter on Saturday, 22 October saw Everton win 1-0 at home. The second encounter played at Watford was a high scoring thriller that ended 4-4.
One thing in Watford's favour however, was that they possessed one of the in-form strikers that season in Mo Johnston. The Scottish-born striker had scored 20 goals during Watford's league campaign and would be a real threat to the blue half of Merseyside.
The build up
As the match approached both teams form could not contrast more.
Watford
Watford were struck a number of blows in the lead up to the final ref. A long season began to take its toll injury-wise and at one point manager Graham Taylor was struggling to find a fit centre-back pairing. In fact, as the season drew to an end, club captain Wilf Rostron had to cover in defence. It was during his spell as a centre-back that he was sent off after an altercation with a Luton player in a league match. He would now miss the chance to lead his team out at the FA Cup Final.
Watford preparations could not have been worse and included an embarrassing 5-1 defeat to Nottingham Forest. Young full-back David Bardsley also injured his knee and would face a race against time to be fit for the final. Perhaps the biggest scare however, came from influential striker, Mo Johnson. He injured his ankle in the lead-up to the match and remained a doubtful starter.
Everton
Everton's form throughout 1984 had been exceptionally good. They had only suffered five defeats since the new year and had a run of six matches before the final in which they were unbeaten. They clearly were the favourites. In Neville Southall, they possessed one of the best young up-and-coming goalkeepers in the country while Andy Gray and Graeme Sharp gave the side a cutting edge.
Suspensions also seemed to go in Everton's favour. John Bailey looked set to miss the final through suspension, but a rearranged match on the Monday before meant that he had served his two-match ban.
Playing styles
Both teams had adopted very different playing styles throughout the season.
Attack, attack, attack
Graham Taylor would not compromise his attacking outlook for the final. Watford had in fact scored 68 goals during the league season, the fourth highest amount. They relied a lot on Mo Johnston but wingers Nigel Callaghan and a young John Barnes were crucial to their approach. In fact Barnes had contributed 11 goals in the league, a remarkable amount for a winger at the time. Although very direct in their approach, some critics and perhaps unfairly thought Watford to be a "long ball" team.
Organised
Everton, on the other hand were extremely organised in defence and attack. They had only conceded one goal in all their FA Cup ties in the lead up to the final. Their method would be to build up slowly, trying to work an opening and taking advantage when they did.
Matchday
Come match day and both sets of fans descended on the world famous Wembley Stadium. Interestingly enough this was the first FA Cup final where shirt sponsors were allowed to be displayed on each team's kit.
Watford started stronger and fashioned a few good chances. The first fell to the young winger John Barnes, but his headed effort, after a flick on by Reilly, was straight at Neville Southall. A little bit either side of him and Watford would have grabbed an early lead.
Watford tried to press home an early advantage and were the more industrious side for the first half an hour. That's not to say that Everton didn't have any chances of their own. The usually reliable Sharp headed wide after a Trevor Steven cross from the right and Steve Sherwood had to be alert to save a left-footed shot from Kevin Richardson.
Perhaps the best chance of the half fell to John Barnes. The winger ran onto a beautifully weighted Les Taylor pass, cut inside Gary Stevens and moved towards Southall's goal. Barnes managed to get a shot away, but it was brilliantly blocked by Derek Mountfield who managed somehow to get across and cut off the flying winger. The danger to Everton's goal had not passed as the blocked shot fell invitingly for Taylor, but his attempt deflected wide of the posts.
Everton took the lead in the 38th minute, and somewhat fortuitously. A cross from Richardson was quickly dealt with by the Watford defence who headed clear. The ball fell to Stevens, who attempted a long-range strike. The shot was off target but near enough for Graeme Sharp to control and unleash a thunderbolt with his right foot from around 13 yards out. The ball cannoned in off the left-hand post and Everton had the lead in the FA Cup!
The second half saw Watford desperately searching for the equaliser. Southall in the Everton goal remained firm however. Everton doubled their lead in the 51st minute, but somewhat controversially.
A cross from Steven on the right seem to be too close to Watford goalkeeper Steve Sherwood. He lept up, and as he fell backwards, he seemed to have control of the ball only for Andy Gray to head it off his hands into the net. Goalkeeper error, or so it seemed. Gray would later admit that he had in fact made contact with Sherwood's hand, forcing the ball over the line.
Referee John Hunting ruled that the goal was legal, and Everton now led 2-0. Try as they might, Watford could not get back into the match although they had a goal from Mo Johnston correctly ruled out for offside.
Everton were happy to defend their lead and with Watford not able to force their way back into the match the final whistle came. Everton were the 1984 FA Cup Champions!