Leeds United 1 - 0 Arsenal


1st Match: Wembley Stadium, London, Saturday 6th May 1972


Attendance: 100,000
Match Referee: David Smith
Team Line-ups:
Leeds United
1 David Harvey
2Paul Reaney
3Paul Madeley
4 Billy Bremner (c)
5 Jack Charlton
6Norman Hunter
7 Peter Lorimer
8Allan Clarke
9Mick Jones
10 Johnny Giles
11 Eddie Gray
Manager
Don Revie
Arsenal
1 Geoff Barnett
2 Pat Rice
3 Bob McNab
4 Peter Storey
5 Frank McLintock (c)
6 Peter Simpson
7 George Armstrong
8 Alan Ball
9 Charlie George
10 John Radford
11 George Graham
Manager
Bertie Mee
Match Breakdown
FA Cup Finalists Full Teams in 1972

Leeds United beat Arsenal by the only goal of the match and thereby frustrated the Londoners' ambition to become the third club to return as Cup-holders and win again for the second successive year, as Newcastle had done in 1952 and Tottenham in 1962.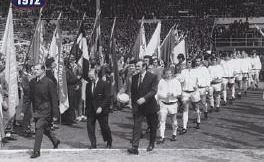 Leeds were the better team all through. Their back four had no trouble in mastering the Arsenal attacks and obliterating the threat posed by strikers George and Radford. By contrast, the Leeds front runners, Jones and Clarke, continually harassed the Arsenal defence.
The Jones-Clarke combination produced a goal in the fifty-third minute. Jones sent across a hard, shoulder-high centre and 'Sniffer' Clarke headed powerfully past Barnett's left hand from fifteen yards.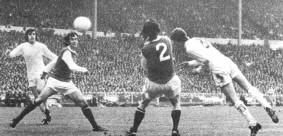 A match that often fell below the highest level began badly with a foul by Clarke on Ball in the first five seconds and the first of four bookings McNab for bringing down Lorimer-as early as the second minute. Neither side played consistently up to their capabilities, yet both had their moments. George's fierce volley cannoned back off the bar for Arsenal, and both Clarke and Lorimer struck the woodwork for Leeds.
Leeds' jubilation at the end was tempered by a last-minute injury to Jones, who fell awkwardly near the touch-line and had to be helped up the steps to receive his winners' medal.