Chelsea 2 - 1 Leeds United
(A.e.t) (Replay) (Original Match 2-2)
Old Trafford, Manchester, Wednesday 29th April 1970
Attendance: 62,078
Match Referee: Eric Jennings (Worcester)
Team Line-ups:
Chelsea
GK 1Peter Bonetti
RB 2Ron Harris (c)
LB 3Eddie McCreadie
CM 4John Hollins
CB 5John Dempsey
CB 6David Webb
RM 7Tommy Baldwin
CM 8Charlie Cooke
CF 9Peter Osgood
CF 10Ian Hutchinson
LM 11Peter Houseman
Substitutes
DF 12Marvin Hinton
Manager
Dave Sexton
Leeds United
1 GKDavid Harvey
2 RBPaul Madeley
3 LBTerry Cooper
4 CMBilly Bremner
5 CBJack Charlton
6 CBNorman Hunter
7 RMPeter Lorimer
8 CFAllan Clarke
9 CFMick Jones
10 CMJohnny Giles
11 LMEddie Gray
Substitutes
12 MFMick Bates
Manager
Don Revie
Road to Wembley:
3 - 0 vs Birmingham City (H)
2 - 2 vs Burnley (H)
3 - 1 vs Burnley (A) (R)
4 - 1 vs Crystal Palace (A)
4 - 2 vs Queens Park Rangers (A)
2 - 1 vs Notts County (a)
5 - 1 vs Watford (White Hart Lane, London)
3rd Round
Replay
4th Round
Replay
Replay
5th Round
Q/Finals
S/Finals
2 - 1 vs Swansea City (H)
6 - 0 vs Sutton United (A)
2 - 0 vs Mansfield Town (H)
2 - 0 vs Swindon Town (A)
0 - 0 vs Manchester United (Hillsborough Stadium, Sheffield)
0 - 0 vs Manchester United (R) (Villa Park, Birmingham)
1 - 0 vs Manchester United (R) (Burnden Park, Bolton)
Match Highlights

Above: Chelsea and Leeds United teams of 1969 to 1970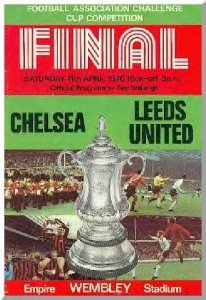 Above: 1970 FA Cup Final Match Programme
Match Breakdown
A Wembley Final ended all-quare for the first time as Chelsea and Leeds fought out a 2‑2 draw after extra time.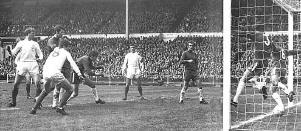 Leeds were superior in organization and team skill, but Chelsea would never admit the possibility of defeat, and their eventual victory after four hours' football was a triumph of spirit and determination.
The Wembley pitch was in poor condition - wet, patchy and sanded and when Jack Chariton's downward header after fifteen minutes failed to bounce, McCreadie kicked over it, and the ball rolled over the line.
Houseman's ordinary-looking shot from twenty yards went through Sprake's arms for a Chelsea equalizer just before half-time. Jones' eightyfourth minute goal would have been a killing blow to most teams, but in two minutes Hutchinson headed Chelsea level again.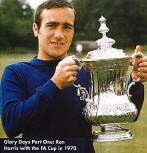 The replay at Old Trafford was a less distinguished affair but again marked by long periods of domination by Leeds. For all of the first half during which Clarke had beaten three men in a swerving run and put Jones through to score and for a good part of the second, Leeds were quicker to the ball, covered better and passed more accurately. Twelve minutes from time Chelsea, incredibly, equalized again through Osgood.
Chelsea went ahead for the first time in the first period of extra time, Webb heading through from Hutchinson's long throw, and the Londoners held on to win.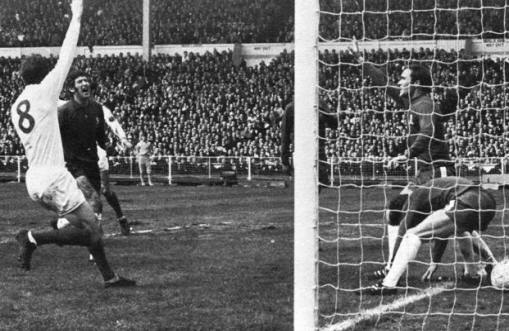 Above: (1st Final) McCreadie lets Charlton's header bounce through his legs for Leeds' first goal in the first of 2 final matches.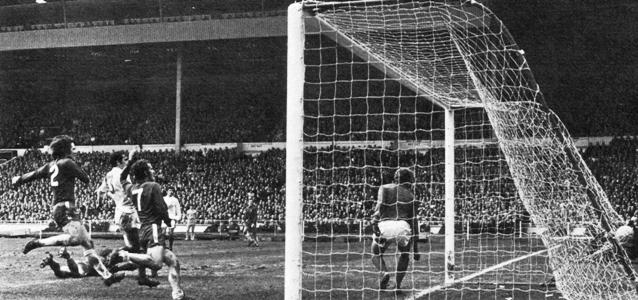 Above: (1st Final) Hutchinson's header beats Sprake for the 2nd equaliser in the first ever draw in a Wembley Cup Final.