Preston North End 1 - 0 Huddersfield Town
Preston North End
Huddersfield Town
1st Match Ended 1-1 (Hutchison 79' o.g.) | (Hutchison 30')


Final went to a Replay (3-2)

1st Match: Wembley Stadium, London, Saturday 9th May 1938

Replay: Wembley Stadium, London, Saturday 14th May 1938
Attendance: 100,000
Match Referee: Keith Hackett (South Yorkshire)
Team Line-ups:
Preston North End
GK 1George Holdcroft
LB 2Len Gallimore
CB 3Andy Beattie
CB 4Bill Shankly
CM 5Tom Smith (c)
RB 6Bob Batey
RM 7Dickie Watmough
CF 8George Mutch
LM 9Bud Maxwell
CM 10Bobby Beattie
CF 11Scotland Hugh O'Donnell
Manager
England James Taylor (acting)
Huddersfield Town
1 GKBob Hesford
2 RBBenny Craig
3 LBReg Mountford
4 CBKen Willingham
5 LMAlf Young (c)
6 CBEddie Boot
7 CFJoe Hulme
8 CMJimmy Isaac
9 CMWillie MacFadyen
10 RMBobby Barclay
11 CFPat Beasley
Manager
Clem Stephenson
Match Highlights
Match Breakdown
FA Cup Finalists Full Teams in 1938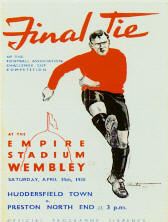 Preston were back at Wembley in 1938 to make amends. This time they faced Huddersfield, just as they had done at Stamford Bridge in 1922. Once again it was a match best forgotten ‑ dull and without pattern.
In fact, the 1938 Final produced another coincidence. Huddersfield won the first time with a penalty; now Preston won with a penalty, scored by Mutch sixty seconds from the end of extra time.
Had the Huddersfield inside‑forwards taken advantage of two or three clear openings made by Hulme, the former Arsenal player now appearing in his fifth Final, Preston would have met with a surprise defeat.
Mutch, the Preston inside‑right, set off on a long dribble. Thousands were already on their way towards the exits, as a little more than a minute of extra time remained of a drab Final. On and on he went until Young, the Huddersfield centre‑half and captain, moved in to the tackle. Mutch went down, and the referee pointed to the penalty‑spot.
The aggrieved player took the spot kick himself, and, with the crowd hushed, struck the ball firmly against the underside of the bar and over the line. Preston had won and an old debt had been settled.