Sunderland 3 - 1 Preston North End
Sunderland

Bobby Gurney 52'
Raich Carter 72'
Eddie Burbanks 85'

Preston North End
Wembley Stadium, London, Saturday 1st May 1937
Attendance:93,495
Match Referee: R. G. Rudd
Team Line-ups:
Sunderland
1Johnny Mapson
2Jimmy Gorman
3Alex Hall
4 Charlie Thomson
5Bert Johnston
6Alex 'Sandy' McNab
7Len Duns
8 Raich Carter (c)
9Bobby Gurney
10Patrick Gallacher
11Eddie Burbanks
Manager
Johnny Cochrane
Preston North End
1 Mick Burns
2 Frank Gallimore
3 Andy Beattie
4 Bill Shankly
5 Billy Tremelling (c)
6 Jimmy Milne
7 Jimmy Dougal
8 Joseph Beresford
9 Frank O'Donnell
10 Willie Fagan
11 Hugh O'Donnell
Manager
Scotland Tommy Muirhead
Sunderland FA Cup Final Team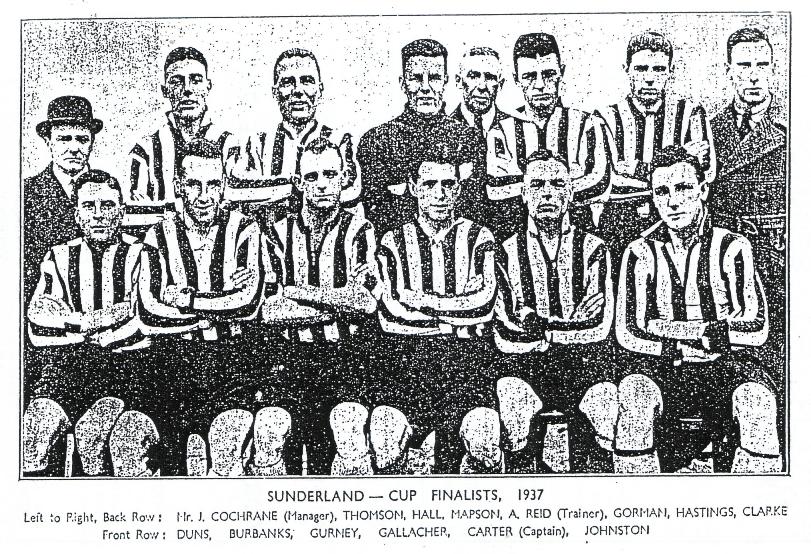 Preston North End FA Cup Final Team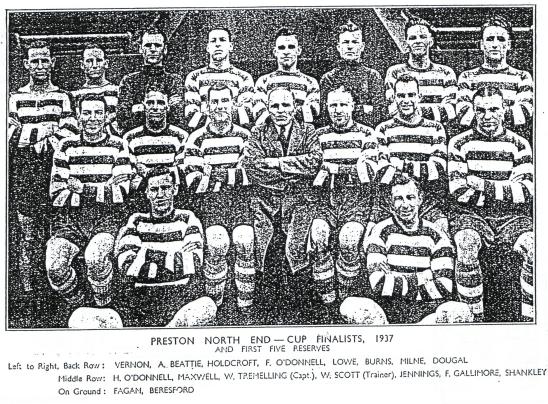 Match Report
For all their great traditions in the League, Sunderland had never yet lifted the Cup. With Preston well in command early on in the 1937 Final, it seemed that once again 'the pot' as going to elude them.
Just before half-time, F. O'Donnell, veering into the inside‑right position, collected the pass from the left that he had cleverly anticipated, and drove home a magnificent shot giving Mapson in the Sunderland goal no chance. Preston were a goal ahead, and only two sides had ever lost at Wembley in a Final after being in front.
But Sunderland were transformed in the second half. The wing-halves, Thomson and McNab, began to push forward and lend their weight to the attack, and the forwards, under the astute generalship of their England inside-right Horatio Carter, at last found their confidence. Within six minutes Gurney had wiped out Preston's lead. Twenty minutes from time Carter put Sunderland ahead, and, near the end, Burbanks shot home brilliantly from a difficult angle to make it 3-1.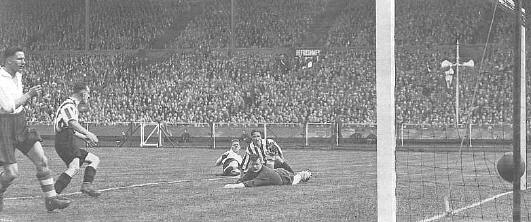 Raich Carter Scores For Sunderland
Raich' Carter, a master technician and great inside-forward, had stamped his personality on the game. Sunderland-born, he led a Sunderland side, League champions the year before, to their moment of triumph.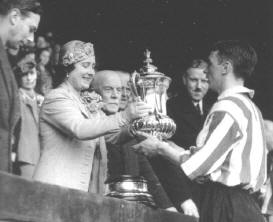 Raich Carter Receives the Cup from the Queen