Newcastle United 2 - 1 Arsenal
Wembley Stadium, London, Saturday, 23rd April 1932
Attendance:92,298
Match Referee: W. P. Harper
Team Line-ups:
Newcastle United
1 Albert McInroy
2Jimmy Nelson (c)
3David Fairhurst
4 Roddie MacKenzie
5 Dave Davidson
6Sam Weaver
7 Jimmy Boyd
8Jimmy Richardson
9Jack Allen
10 Harry McMenemy
11 Tommy Lang
Manager
Andy Cunningham
Arsenal
1 Hugh Turner
2 Roy Goodall
3 Bon Spence
4 Jimmy Naylor
5 Tom Wilson (c)
6 Austen Campbell
7 Alex Jackson
8 Bob Kelly
9 Harry Davies
10 Harry Raw
11 Billy Smith
Manager
Clem Stephenson
Match Report
Arsenal, second-placed in the League, were forced to take the field at Wembley without James, who was unfit, and that necessitated a change in the left flank of the attack. Newcastle, judged by their League performances, were nothing out of the ordinary. Few thought they stood a chance against the great Highbury side.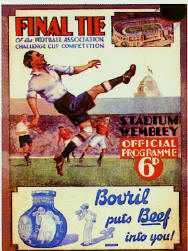 The match was merely following its expected course when Arsenal went ahead after fifteen minutes. 'Police Constable' Roberts, the Arsenal centre-half, sent a long pass out to Hulme who beat Fairhurst and centred. McInroy and Nelson both failed to cut it out, leaving John with a chance he couldn't miss.
Newcastle equalized seven minutes before the interval, when Alien at last 'lost' Roberts and scored with a header. This was Newcastle's famous 1 over the line' goal - perhaps the most disputed goal in the history of football. Photographs later indicated that the ball had run over the dead-ball line before Richardson hooked it over from the right. Certainly the Arsenal defence relaxed, thinking that it had, and Alien was left unguarded in the middle.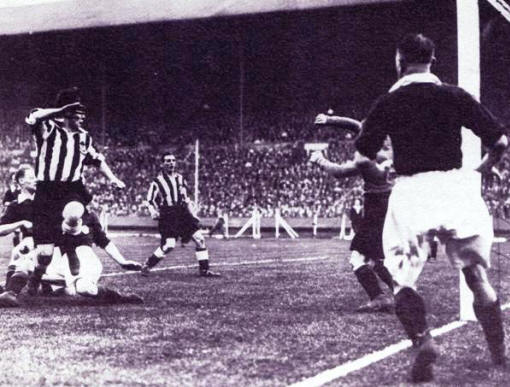 The disputed Newcastle goal was headed by Allen while Hapgood was out of play.
From that moment the Cup slowly slipped from Arsenal's grasp, though the tension was sustained almost to breaking point. Alien snatched Newcastle's seventy-second minute winner, and for the first time the team scoring first at Wembley had lost.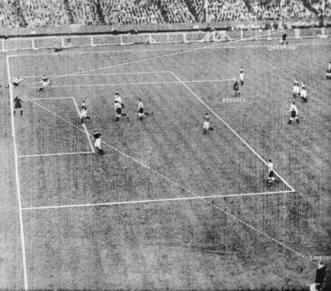 The 'Over The Line' goal that won the cup