Sheffield United 1 - 0 Cardiff City
Sheffield United
Cardiff City
Wembley Stadium, London, Saturday 25th April 1925
Attendance:91,763
Match Referee:G. N. Watson
Team Line-ups:
Sheffield United
1 Charles Sutcliffe
2Billy Cook
3Ernest Milton
4 Harry Pantling
5Seth King
6George Green
7David Mercer
8 Tommy Boyle
9Harry Johnson
10Billy Gillespie (c)
11Fred Tunstall
Manager
John Nicholson
Cardiff City
1 Tom Farquharson
2 James Nelson
3 Jimmy Blair
4 Harry Wake
5 Fred Keenor (c)
6 Billy Hardy
7 Willie Davies
8 Jimmy Gill
9 Joe Nicholson
10 Harry Beadles
11 Jack Evans
Manager
Fred Stewart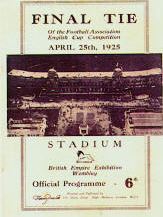 Cardiff had won promotion to the First Division shortly after the war, they had only been beaten for the Championship by Huddersfield on goal average in 1924, and now they were playing in their first Final. Their clash with Sheffield United at Wembley in 1925 - a meeting of old masters and new hopefuls - almost amounted to an international match.
Not for the first time in a Wembley Final a mistake cost one team the match. A quarter of an hour before half-time, Pantling, Sheffield's right half, hit a long, swinging pass out to the left. Tunstall, the new England outside-left, moved towards the ball as it dropped, trapped it and went on to pick his spot in the Cardiff net. Cardiff right-half Wake could probably have cut out the pass to Tunstall, but, fatally, he hesitated and Tunstall was through to score.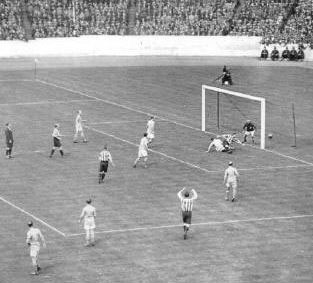 Tunstall Scores The Winning Goal
It was a terrific blow to the Welsh team, and, though Blair, Hardy and Keenor continued to play above themselves, Cardiff were unable to reproduce any of the brilliant football that had recently brought them into the limelight. Sheffield, led by the supreme strategy of Gillespie at inside-left, deservedly won the Cup for the fourth time in their history. Cardiff's chance was to come two years later.