Bradford City scored a famous victory against Newcastle United over 100 years ago in the cup final. With the first match ending goaless it lead to a replay at Old Trafford where a goalkeeper error by Newcastle allowed Bradford's captain Jimmy Speirs to pounce early on. This proved the decisive event of the match with the score ending 1-0.
Bradford City 1 - 0 Newcastle United
Bradford City
Newcastle United
1st Match Ended Goalless (0-0), Final went to a Replay (1-0)

1st Match: Crystal Palace, South London, Saturday 22nd April 1911

Replay: Old Trafford, Manchester, Wednesday 26th April 1911
Attendance: 1st Match: 69,098 / Replay: 58,000
Match Referee: John Pearson
Team Line-ups:
Bradford City
Mark Mellors
Robert Campbell
David Taylor
George Robinson
Bob Torrance
Jimmy McDonald
Peter Logan
Jimmy Speirs (c)
Frank O'Rourke
Archie Devine
Frank Thompson
Newcastle United
Jimmy Lawrence
Billy McCracken
Tony Whitson
Colin Veitch (c)
Wilf Low
David Willis
Jock Rutherford
George Jobey
Jimmy Stewart
Sandy Higgins
George Wilson
Road to Wembley:
1 - 0 vs New Brompton (A)
2 - 1 vs Norwich City (H)
1 - 0 vs Grimsby Town (H)
1 - 0 vs Burnley (H)
3 - 0 vs Blackburn Rovers (Bramall Lane, Sheffield)
1st Round
2nd Round
Replay
3rd Round
4th Round
S/Finals
6 - 1 vs Bury (H)
1 - 1 vs Northampton Town (H)
1 - 0 vs Northampton Town (H)
3 - 2 vs Hull City (H)
4 - 0 vs Derby County (H)
3 - 0 vs Chelsea (St Andrews, Birmingham)
Match Breakdown
In July 1910 the Football Association Challenge Cup, having been duplicated without the consent of the Association, was withdrawn from the competition and a new Cup offered. This third trophy was the work of Messrs Fattorini & Sons of Bradford - how appropriate, therefore, that its first winners should be Bradford City.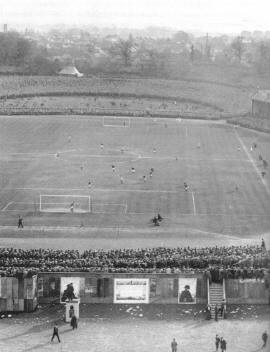 Crystal Palace during the 0-0 draw.
In the 1911 Final, Newcastle once more failed to do themselves justice at Crystal Palace. An uneventful, goalless match led to a replay for the second successive year. This time it was held in Manchester, where a bad mistake by Lawrence, the Newcastle goalkeeper, gave Bradford's centre-forward Jimmy Speirs the chance to score the only goal of the game with about fifteen minutes gone and thousands still clamouring to get into the Old Trafford ground.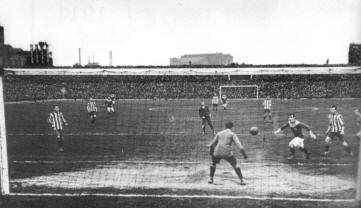 Bradford City's winning replay goal scored by J H Speirs.
The attendance of 66,646 was the highest for a midweek match in England; those who failed to gain entry missed little beyond an exhibition of hard, forthright tackling by both sides. The Bradford defence again performed heroically, and centre-half Torrance, who had missed the match at Crystal Palace, was outstanding.
Bradford, with a team containing eight Scotsmen, had therefore achieved in their first and only Final what Newcastle had been struggling to do for so long.

The new FA Cup made in Bradford, being presented to the winners Bradford!