Kennington Oval - Saturday 23rd March 1878
Wanderers
(Kenrick 2, Kinnaird) J. Kirkpatrick; A. Stratford, W. Lindsay; Hon A. F. Kinnaird, F. T. Green. C. H. R. Wollaston; H. Heron. J. G. Wylie, H. Wace. C. A. Denton, J. Kenrick
Royal Engineers
(Unknown) L. B. Friend; J. H. Cowan, W. J. Morris; C. B. Mayne, F. C. Heath. C. E. Haynes; M. Lindsay, R. B. Hedley, F. G. Bond, H. H. Barnet, 0. E. Ruck
Referee: S. R. Bastard
Attendance : 4500
MATCH REPORT
The Wanderers, having won the trophy twice consecutively, assembled perhaps the most powerful team they had ever put on to the field, in the hope of winning the match and the Cup outright at the same time. They were strong favourites at the start and. though the Engineers maintained a gallant uphill struggle throughout the afternoon, Wanderers ran out 3-1 winners in the end.
As soon as Lieutenant Hedley had kicked off for the Engineers the game began to develop into one of the fastest ever witnessed. Morris's head intervened to divert Kinnaird's good shot for a throw-in and when Kinnaird returned the ball into play, Wace hit it across to Kenrick and he drove it in under the tape to give Wanderers a fifth-minute lead.
On restarting, the 'Sappers' made a desperate rush upfield, and, during a determined struggle for possession that followed. Wanderers goal­keeper Kirkpatrick had his arm broken. But. though he must have been in great pain, he refused to leave the field.
Never before had the Wanderers displayed such skill and quickness than on this important occasion; yet the Engineers met their opponents with great resolve, often attacking brilliantly. In the eighteenth minute Wanderers sent the ball out of their penalty-area, Morris hit it straight back, and the ball bobbed about in front of goal before eventually going through for an equalizer. Ten minutes later Wanderers were in the lead again, as one of the Engineers put through his own goal.
The Engineers continued to play with spirit after the interval, but fate was clearly against them. Medley's 'goal' was disallowed for offside and then, ten minutes into the half, Heron squared the ball from the right for Kenrick to drive it in.
The Cup became Wanderers' property by the rules of the competition. They chose, in fact, to hand the trophy back to the Football Association on the condition that in future it was not to be won outright by any club.
After making history, the Wanderers were never again to appear in the Final. The club which had borne such a great share of the hard work of founding the game had a limited future. Composed as it was of a collection of members of other clubs, it found increasing difficulty in securing players. In September 1878, Kinnaird and other leading players resigned from the Wanderers to play for the Old Etonians.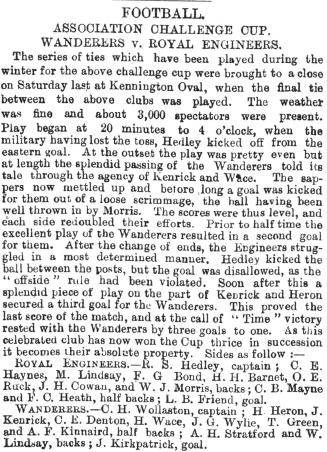 ORIGINAL REPORT FROM THE TIMES - 25th March 1878
Round By Round
First Round
WANDERERS v Panthers 9-1; High Wycombe v Wood Grange 4-0; Barnes v St Marks wo; Gt Marlow v Hendon 2-0; Sheffield v Nottingham 3-0; Darwen v Manchester 3-1; ROYAL ENGINEERS v Union wo; Pilgrims v Ramblers 1-0; Druids (Wales) v Shropshire Wand 1-0; Oxford Univ v Herts Rangers 5-2; Old Foresters v Old Wykehamists wo; Clapham R v Grantham 2-0; Swifts vLeyton 8-2; Old Harrovians v 105th Regiment 2-0; 1st Surrey Rifles v Forest School 1 -0; Cambridge Univ v Southill Pk 3-1; Maidenhead v Reading Hornets 10-0; Upton Pk v Rochester 3-0; Reading v South Norwood 2-0; Remnants v St Stephens 4-1; Hawks v Minerva 5—2; Queen's Pk, Glasgow bye (later withdrew)
Second Round
WANDERERS v High Wycombe 9-0; Barnes v Gt Marlow 3-1; Sheffield v Darwen 1-0; ROYAL ENGINEERS v Pilgrims 6-0; Druids bye; Oxford Univ v Old Foresters 1-0; Clapham R v Swifts 4-0; Old Harrovians v 1st Surrey Rifles 6-0; Cambridge Univ v Maidenhead 4-2; Upton Pk v Reading 1 -0; Remnants v Hawks 2-0
Third Round
WANDERERS v Barnes 4-1; Sheffield bye; ROYAL ENGINEERS v Druids 8-0; Oxford Univ v Clapham R 3-2; Old Harrovians v Cambridge Univ 2-0; Upton Pk v Remnants 3-0
Fourth Round
WANDERERS v Sheffield 3-0; ROYAL ENGINEERS v Oxford Univ 4-2; Old Harrovians v Upton Pk 3-1
Semi FInal
WANDERERS bye; ROYAL ENGINEERS v Old Harrovians 2-1