Kennington Oval - Saturday 24th March
Wanderers
( Lindsay, Kenrick. ): A. F. Kinnaird; W. Lindsay, A. Stratford; F. H. Birley, C. A. Denton, F. T. Green; H. Heron, T. Hughes, J. Kenrick, H. Wace, C. H. R. Wollaston
Oxford University
E. H. Allington; J. Bain, 0. R. Dunnell; J. H. Savory, A. H. Tod. E. W. Waddington; P. H. Fernandez, A. F. Hills, H. S. Otter, E. H. Parry, W. S. Rawson
Referee: S. H. Wright (Marlow)
Attendance : 3000
MATCH REPORT
In 1877, again on Boat Race day, it was the turn of Oxford University to oppose the Wanderers at the Oval. Though the game went into extra time, it was the Wanderers once more who carried the day with two goals during the extra half-hour.
Oxford had almost taken the lead in bizarre fashion in the fifteenth minute. After something like a rugby scrum in front of the Wanderers' goal, the ball went behind for a corner. Waddington's corner-kick fell neatly into Kinnaird's hands and the Wanderers' custodian very nearly stepped back over the goal-line with the ball.
Wanderers charged the Oxford goal repeatedly, Heron and Wace being continually frustrated by the vigilant Allington. The game went on without any advantage being gained by either team. and the match was declared drawn after ninety minutes. Then, by mutual consent, the teams agreed to play for another half-hour and despite the heavy rain both now played with redoubled energy.
After ten minutes Kenrick made a brilliant run from well inside his own half, successfully avoided a number of challenges and finished by eluding Allington to slide the ball home. In a fierce Wanderers attack soon after­wards Lindsay passed the ball through to make the final score 2-0.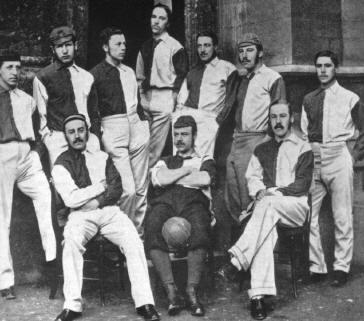 Oxford University - Losing Finalists 1877
Back Row: Thornton, Otter*, Guy, Bain*, Metcalfe, Savory*Frnandez* Seated: Hampson, Rawson*, Parry* * - Denotes players who played in the final
Round By Round
First Round
WANDERERS v Saffron Walden wo; Southall v Old Wykehamists wo; Pilgrims v Ramblers 4-1; Panthers v Wood Grange 3-0; Cambridge Univ v High Wycombe wo; Clapham R v Reigate Priory 5-0; Rochester v Union 5-0; Swifts v Reading Hornets 2-0; Royal Engineers v Old Harrovians 2—1; Shropshire Wand v Druids wo; Sheffield v Trojans wo; South Norwood v Saxons 4-1; OXFORD UNIV v Old Salopians wo; 105th Regiment v 1st Surrey Rifles 3-0; Queen's Pk, Glasgow bye; UptonPk v Leyton7-0; Barnes v Old Etonians wo; Gt Marlow v Herts R 2-1; Forest School v Gresham 4-1
Second Round
WANDERERS v Southall 6-1; Pilgrims v Panthers 1 -0; Cambridge Univ v Clapham R 2-1; Rochester v Swifts 1-0; Royal Engineers v Shropshire Wand 3-0; Sheffield v South Norwood 7-0; OXFORD UNIV v 105th Regiment 6-1 ;Queen's Pk, Glasgow bye; Upton Pk v Barnes 1-0; Gt Marlow v Forest School 1 -0
Third Round
WANDERERS v Pilgrims 3-0; Cambridge Univ v Rochester 4-0; Royal Engineers v Sheffield 1 -0; OXFORD UNIV v Queen's Pk, Glasgow wo; Upton Pk v Gt Marlow 1 -0
Fourth Round
WANDERERS bye; Cambridge Univ v Royal Engineers 1-0; OXFORD UNIV v Upton Pk 1-0
Semi Final
WANDERERS v Cambridge Univ 1 -0; OXFORD UNIV bye