Kennington Oval - Tuesday 16th March
Royal Engineers
(Renny-Tailyour, Stafford ) : Capt Merriman; Lieut G. H. Sim. Lieut G. Onslow; Lieut R. M. Ruck, Lieut P. G. von Donop, Lieut C. K. Wood; Lieut H. E. Rawson. Lieut R. H. Stafford, Capt H. W. Renny-Tailyour, Lieut Mein, Lieut C. Wingfield Stratford
Old Etonians
Capt E. H. Drummond-Moray; M. Farrer, E. Lubbock; F. H. Wilson, Hon A. F. Kinnaird, J. H. Stronge; F. J. Patton. C. E. Farmer, A. G. Bonsor, A. Lubbock, T. Hammond. (C. J. Ottaway, W. S. Kenyon-Slaney, R. H. Benson and A. G. Thompson took part in the first match in place of A. Lubbock. T. Hammond, M. Farrer and Capt E. H. Drummond-Moray)
Referee: C. W. Alcock
Attendance : 3000
MATCH REPORT
Apart from the Wanderers, the Royal Engineers were the most consistent team in the early years of the competition. Having lost the first Final at the Oval and again in 1874, they won the Cup at last in 1875 after a 1-1 draw.
The Engineers were the first to appreciate that football was essentially a team game. Passing and supporting the player with the ball were as important as dribbling. Their players were fit and fast and, for all their sportsmanship, no suitable opponents for the squeamish.
The Engineers went through the season without a single defeat, but had had little to spare in winning their semi-final with Oxford. In the Final against the Old Etonians they drew the first game at the Ova! after extra time.
The match had been remarkable for the strange handicap imposed on the Engineers by the existing rule that teams had to change ends after each goal was scored. This led to their having to play against a gale for most of the ninety minutes.
Etonians won the toss and gained the advantage of the wind at the outset. For forty minutes they tried their utmost to score but the Engineers invariably got the ball away at the critical moment. Their clearances upfield tended to be blown back towards their own penalty-area, and success or failure in the match seemed to depend on whether they could play out the last five minutes of the half without conceding a goal.
In the last seconds Bonsor. using the wind to full advantage, curled his corner-kick round the goalkeeper and through the posts and the teams changed ends. The Sappers, enraged by this cruel stroke of luck. roared on to the attack and immediately scored an equalizer.
Ends were changed again and the fight carried on with renewed energy. Ruck's collision with Etonian inside-forward Ottaway led to the latter being carried off with an injured ankle. This accident more or less made the game equal, allowing for the wind, and it finished after ninety minutes with the score at 1-1.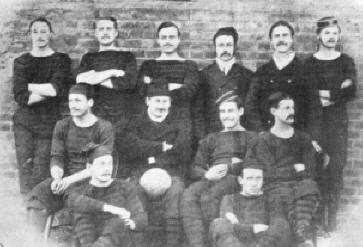 Following a pre-match arrangement, an extra half-hour was played. Etonians failed to score in the first period with the wind behind them. and the prospects of the Engineers winning looked bright. But the Etonians concentrated solely on defending their goal and successfully kept their opponents out. Several leading Etonians were unable to take part in the replay, but surprisingly the Engineers had some difficulty in winning.
Round By Round
First Round
ROYAL ENGINEERS v Gt Marlow 3-0; Cambridge Univ v Crystal Palace 2-1; Clapham R v Panthers 3-0; Pilgrims v South Norwood 2-1; Oxford Univ v Brondesbury 6-0; Windsor Home Pk v Uxbridge wo; Wanderers v Farningham 16-0; Barnes v Upton Pk 3-0; OLD ETONIANS v Swifts 3-0; Maidenhead v Hitchin 1 -0; Reigate Priory bye; Shropshire Wand v Sheffield wo; Civil Service v Harrow Chequers wo; Woodford Wells v High Wycombe 1 � Southall v Leyton 5-0
Second Round
ROYAL ENGINEERS v Cambridge Univ 5-0; Clapham R v Pilgrims 2-0; Oxford Univ v Windsor Home Pk wo; Wanderers v Barnes 4-0; OLD ETONIANS bye; Maidenhead v Reigate Priory 2-1; Shropshire Wand v Civil Service wo; Woodford Wells v Southall 3-0
Third Round
ROYAL ENGINEERS v Clapham R 3-2; Oxford Univ v Wanderers 2-1; OLD ETONIANS v Maidenhead 1 -0; Shropshire Wand v Woodford Wells 2-0
Semi-Final
ROYAL ENGINEERS v Oxford Univ 1 -0; OLD ETONIANS v Shropshire Wand 1