Kennington Oval - Saturday 14th March
Oxford University
(Mackarness, Patton) : C. E. B. Neapean; C. C. Mackarness, F. H. Biriey; F. T. Green, R. W. S. Vidal, C. J. Ottaway; R. H. Benson, F. J. Patton, W. S. Rawson, F. B. Chappell-Maddison, Rev A. H.Johnson
Royal Engineers
Capt Merriman; Major Marindin, Lieut G. W. Addison; Lieut G. C. Onslow, Lieut H. G. Oliver. Lieut T. Digby; Lieut H. W. Renny-Taityour. Lieut H. E. Rawson. Lieut J. E. Blackman. Lieut A. K. Wood, Lieut P. G. von Donop
Referee: A. Stair (Upton Park)
Attendance : 2000
MATCH REPORT
Major Marindin's Engineers from Chatham were undoubtedly the best team in the country during the first four seasons of the Cup. All their matches were against the leading clubs like the Wanderers or the Uni­versity sides, and their remarkable record during that period included a goal-tally of 244 for and 21 against. Only three matches out of eighty-six were lost in four years and one of those, unfortunately, was the Final of 1874.
Oxford had always been one of the Engineers' most difficult opponents and they had had many a closely matched contest. Beaten finalists the year before, Oxford again swept through to the Final, where they were clearly superior to the Engineers who were playing well below their best form.
Mackarness sent a loose ball in under the tape following a corner-kick, to give Oxford a 1-0 lead. The Sappers often threatened the Oxford goal, but then Ottaway, Chappell-Maddison and Vidal rushed away with the ball and Patton kicked a second goal for the University very soon after the first.
The teams changed ends again - they were obliged to after every goal -and the Engineers were compelled to defend for some time, and though Renny-Tailyour's shot against a post at the other end gave them a brief respite, it was to no avail.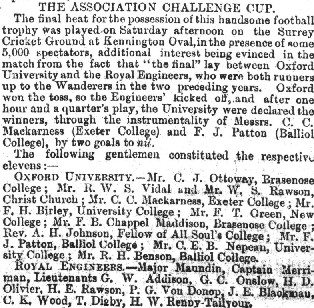 Round By Round
First Round
OXFORD UNIV v Upton Pk 4-0; Barnes v 1st Surrey Rifles 1-0; Wanderers v Southall wo; Trojans v Farningham wo; Clapham R v AAC wo; Cambridge Univ v South Norwood 1-0; Sheffield beat Shropshire Wand; Pilgrims v Gt Marlow 1-0; ROYAL ENGINEERS v Brondesbury 5-0; Uxbridge v Gitanos 3-0; Maidenhead v Civil Service wo; High Wycombe v Old Etonians wo; Swifts v Crystal Palace 1-0; Woodford Wells v Reigate Priory 3-0
Second Round
OXFORD UNIV v Barnes 2-1; Wanderers v Trojans wo; Clapham R v Cambridge Univ 4-1; Sheffield v Pilgrims 1-0; ROYAL ENGINEERS v Uxbridge 2-1; Maidenhead v High Wycombe 1-0; Swifts v Woodford Wells 2-1
Third Round
OXFORD UNIV v Wanderers 1-0; Clapham R v Sheffield 2-1; ROYAL ENGINEERS v Maidenhead 7-0; Swifts bye
Semi-Final
OXFORD UNIV v Clapham R 1-0; ROYAL ENGINEERS v Swifts 2-0