Wolverhampton Wanderers 3 - 0 Blackburn Rovers
Wolverhampton Wanderers

McGrath Goal 41' (o.g.)
Deeley Goal 67', 88'

Blackburn Rovers
Wembley Stadium, London, Saturday 7th May 1960
Attendance: 98,954
Match Referee: Kevin Howley (Billingham)
Team Line-ups:
Wolverhampton Wanderers
1Malcolm Finlayson
2George Showell
3Gerry Harris
4Eddie Clamp
5Bill Slater (c)
6Ron Flowers
7Norman Deeley
8Barry Stobart
9Jimmy Murray
10Peter Broadbent
11Des Horne
Manager
Stan Cullis
Blackburn Rovers
1 Harry Leyland
2 John Bray
3 Dave Whelan Substituted off 43'
4 Ronnie Clayton (c)
5 Matt Woods
6 Mick McGrath
7 Louis Bimpson
8 Peter Dobing
9 Derek Dougan
10 Bryan Douglas
11 Ally MacLeod
Manager
Dally Duncan
Match Highlights

Wolves had high hopes of achieving the elusive League and Cup double until Burnley's victory at Manchester City on the Monday before the Final meant that they were concentrating solely on winning the Cup.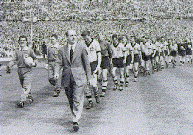 Wolves were on top at the start and took the lead four minutes before half-time when Rovers defender McGrath, trying to cut out Stobart's low cross into the goalmouth, only succeeded in deflecting the ball into his own net. Two minutes later tragedy struck when Rovers defender Whelan broke a leg in a harm less-looking tackle with Deeley.
At half-time, then, Wolves must have gone off knowing that, barring further accidents, the Cup was surely theirs. Despite their handicap, however, Rovers were far from prepared to accept defeat without a struggle.
As the combined effects of the heat and of playing with ten men began to tell on the Rovers team, Wolves almost inevitably went further ahead. In the sixty-seventh minute Home beat the offside trap and had plenty of time in which to centre from the left to Deeley who scored with a first-time shot from near the penalty-spot.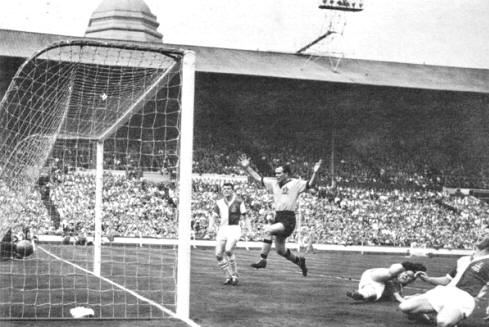 McGrath Puts through his own goal for Wolves' First Goal
The remainder of the match was dominated by Wolves. Flowers had a goal' disallowed for offside, and then Deeley followed up to score a third after Stobart's centre had come back off a post.