Bury 6 - 0 Derby County
Bury

Ross Goal 20'
Sagar Goal 48'
Leeming Goal 56' Goal 76'
Wood Goal 57'
Plant Goal 59'

Derby County
Crystal Palace, London, Saturday 18th April 1903
Attendance: 63,102
Match Referee: J Adams
Team Line-ups:
Bury
1 Hugh Monteith
2 Jimmy Lindsay
3 James McEwen
4John Johnston
5Frank Thorpe
6George Ross (c)
7Billy Richards
8Willie Wood
9Charlie Sagar
10Joe Leeming
11John Plant
Manager
H. S. Hamer
Derby County
1 Jack Fryer
2 Jimmy Methven
3 Charlie Morris
4 Ben Warren
5 Archie Goodall (c)
6 Johnny May
7 Joe Warrington
8 Charlie York
9 John Boag
10 George Richards
11 George Davis
Manager
Harry Newbould
Road to Wembley:
1 - 0 vs Wolverhampton Wanderers (H)
1 - 0 vs Sheffield United (A)
1 - 0 vs Notts County (H)
3 - 0 vs Aston Villa (Goodison Park, Liverpool)
1st Round
Replay
2nd Round
3rd Round
S/Finals
1 - 1 vs Sunderland (A)
4 - 1 vs Sunderland (H) (R)
1 - 1 vs Blackpool (H)
3 - 0 vs Blackpool (A)
3 - 0 vs Blackpool (A)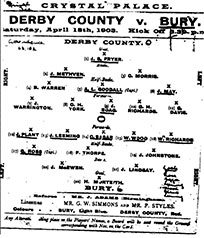 Derby were without the injured Bloomer for the Final, but even so they had a strong side on paper. Yet the match turned out to be one of the most one-sided ever played, and Bury's 6-0 victory still stands as the record Final win. Bury also equalled another record, winning the Cup without conceding a goal in any round.
Derby's play was so inept that Bury were never fully extended. Monteith, the Bury goalkeeper, had nothing to do, though the ex-West Ham and Bristol City man had certainly had his capabilities thoroughly stretched at Sheffield in the second round. Defenders McEwen and Ross, the latter captain, contributed much to Bury's crushing victory. Richards was brilliant in attack, though he didn't score, and Leeming. who got a couple, showed himself to be a more than useful player, if a little slow.
Ross, Sagar, Wood and Plant scored Bury's other goals. For Derby, who could do nothing right, matters were made worse when their goalkeeper, Fryer, as he tried to save a goal, collided with Sagar. and, after sticking gallantly to his post for a while, was forced to retire in the sixty-fifth minute after Bury had completed a murderous four-goals-in-twenty-minutes.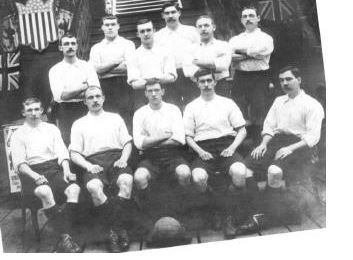 Bury - Cup Winners 1903
Back Row: Johnstone, Lindsay, Thorpe, Monteith, Ross, McEwen Seated: Richards, Wood, Sagar, Leeming, Plant