Bury 4 - 0 Southampton
Bury

McLuckie Goal 9' Goal '23
Wood Goal 16'
Plant Goal 80'

Southampton
Crystal Palace, London, Saturday 21st April 1900
Attendance: 68,945
Match Referee: Arthur Kingscott
Team Line-ups:
Bury
1 Fred Thompson
2 Jack Darroch
3 Tommy Davidson
4Jack Pray
5Joe Leeming
6George Ross
7Billy Richards
8Willie Wood
9Jasper McLuckie
10Charlie Sagar
11John Plant
Manager
H. S. Hamer
Southampton
1 Jack Robinson
2 Peter Meehan
3 Peter Durber
4 Samuel Meston
5 Arthur Chadwick
6 Bob Petrie
7 Archie Turner
8 Jimmy Yates
9 Jack Farrell
10 Harry Wood
11 Alf Milward
Manager
Ernest Arnfield
Keeping up its reputation for surprises, the Cup competition in this season saw most of the 'crack' clubs dismissed in the early rounds, the Final being left to Bury and Southampton, neither of whom were expected to get this far.
Southampton's progress through to the Final had included victories against Newcastle and West Bromwich. the latter certainly no mean feat, but their success was not complete. They failed to hold the Bury side for whom McLuckie (twice), Wood and Plant scored in an emphatic 4-0 win.
Bury had a much easier passage against Southampton than they had had in the semi-final tie with Nottingham Forest. Then they were within a minute of defeat before a last desperate effort from Pray and McLuckie altered the score from 1-2 to 3-2.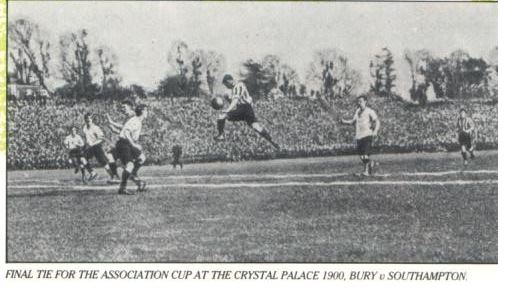 As this was the first time since 1883 that a southern club had competed in the Final, a record attendance at the Crystal Palace was expected. In fact, the crowd of 69,000 was 5,000 down on the previous year.
Southampton were a southern club in name only, for there were only two southerners in the team, and neither of those were from Southampton. Bury themselves had six Scots in their line-up.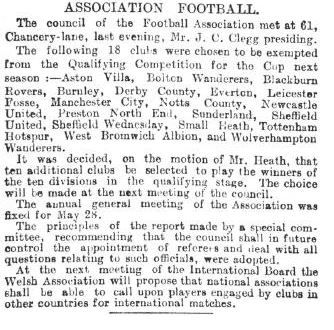 Cutting from the Times in 1900 showing how the top clubs voted to exempt themselves from the qualifying rounds of the cup