Manchester United 4 - 0 Brighton & Hove Albion
Manchester United

Robson Goal '25
Whiteside Goal '30
Mühren Goal 62'

Brighton & Hove Albion
Crystal Palace, London, Saturday 21st May 1983
Attendance:91,534
Match Referee:Alf Grey
Team Line-ups:
Manchester United
1 Gary Bailey
2Mike Duxbury
3Kevin Moran
4Gordon McQueen
5Arthur Albiston
6Arnold Mühren
7Ray Wilkins
8 Bryan Robson (c)
9Alan Davies
10Frank Stapleton
11Norman Whiteside
Manager
Ron Atkinson
Brighton & Hove Albion
1 Graham Moseley
2 Steve Foster (c)
3 Steve Gatting
4 Gary Stevens
5 Graham Pearce
6 Gary Howlett
7 Tony Grealish
8 Jimmy Case
9 Neil Smillie
10 Michael Robinson
11 Gordon Smith
Manager
Gerry Ryan

This was so nearly another shock in a "year of the three" Final, for the first match made nonsense of the form book with Brighton, who had finished bottom of the First Division, stretching United (third) to the last kick.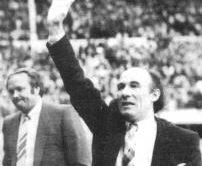 How close they came to a sensational victory was to be perpetuated in their fanzine title "And Smith Must Score" - the words of the commentator as Cordon Smith, clean through at two all in the last seconds of extra time, saw his shot smothered by Gary Bailey.
Smith had headed Brighton in front after 14 minutes and, although without their suspended captain, Steve Foster, in the first match, they stayed ahead until the 54th-minute reply by Frank Stapleton.
It looked all over for Brighton when Ray Wilkins floated United 2-1 ahead from twenty yards, but Gary Stevens levelled four minutes from the end of normal time.
For the replay on the following Thursday, United were unchanged while Brighton welcomed back Foster and played Gatting at right-back for the injured Ramsey.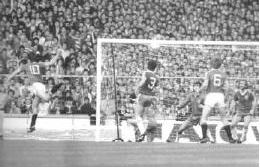 United had learned their lesson, and 4-nil was the biggest Cup Final margin since 1903 (Bury 6, Derby 0). Two goals in five minutes midway through the first half - by Bryan Robson and then the youngest Cup Final scorer, Norman Whiteside, just 18 - put them beyond reach.
Robson scored a close range third goal before halftime, and Arnold Muhren completed the scoring (63 minutes) from the penalty spot. United and Robson were to collect the Cup twice more in the next seven seasons.