Newcastle United 1 - 0 Arsenal
Wembley Stadium, London, Saturday, 3rd May, 1952
Attendance: 100,000
Match Referee: Arthur Ellis (Halifax)
Team Line-ups:
Newcastle United
GK 1 Ronnie Simpson
RB 2 Bobby Cowell
LB 3 Ireland Alf McMichael
RH 4 Joe Harvey (c)
CH 5 Frank Brennan
LH 6 Ted Robledo
OR 7 Tommy Walker
IR 8 Billy Foulkes
CF 9 Jackie Milburn
IL 10 George Robledo
OL 11 Bobby Mitchell
Stan Seymour (Manager)
Arsenal
GK 1 George Swindin
RB 2 Wally Barnes
LB 3 Lionel Smith
RH 4 Alex Forbes
CH 5 Ray Daniel
LH 6 Joe Mercer (c)
OR 7 Freddie Cox
IR 8 Jimmy Logie
CF 9 Cliff Holton
IL 10 Doug Lishman
OL 11 Don Roper
Road to Wembley:
4 - 2 vs Aston Villa (H)
3 - 0 vs Tottenham Hotspur (A)
1 - 0 vs Swansea Town (A)
4 - 2 vs Portsmouth (A)
2 - 1 vs Blackburn Rovers (at Elland Road, Leeds - Second Leg) (First Leg - 0 - 0 at Hillsborough, Sheffield)
1st Round
2nd Round
Replay
3rd Round
4th Round
S/Finals
5 - 0 vs Norwich City (A)
4 - 0 vs Barnsley (H)
3 - 0 vs Leyton Orient (A)
3 - 2 vs Luton Town (A)
4 - 0 vs Derby County (H)
3 - 0 vs Chelsea (at White Hart Lane, London - Second Leg) (First Leg - 1 - 1 at White Hart Lane, London)
The Line Ups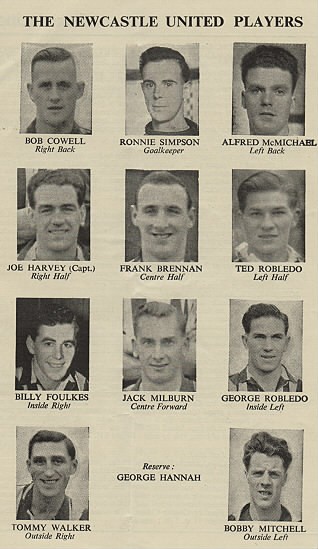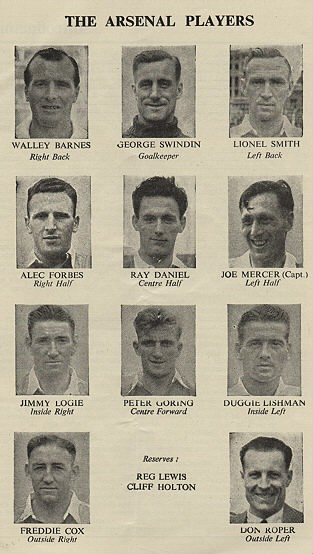 Match Breakdown
The luck had been on Arsenal's side in the earlier rounds but it deserted them at Wembley. Full‑back Barnes was injured in the first half of the Final ‑wrenched ligaments behind a knee meant he could take no further part in the match - and Arsenal had to face the Newcastle attack with only ten men in a radically revised line-up.
Newcastle drove hard through the open spaces towards goal following Barnes' departure, but time and again they were foiled by the Arsenal half-back trio of Forbes, Daniel and Mercer. Once Milbum nearly scored for Newcastle with a header towards an open goal, but Lionel Smith was well positioned to clear off the line with Swindin beaten.
The eleven men of Newcastle attacked relentlessly after the change of ends and became more and more desperate as what appeared to be fairly easy chances went astray. Arsenal held out bravely until the eighty‑fourth minute - certainly the sympathy of the crowd was with them - and then Robledo headed the goal that won the Cup.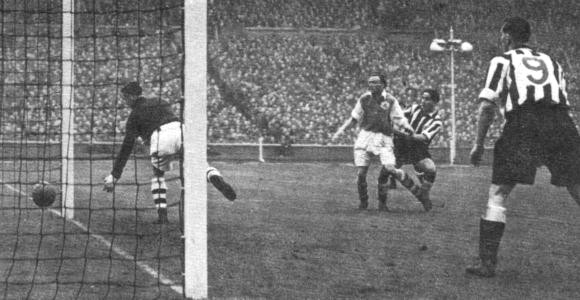 Newcastle United striker George Robledo heads past Arsenal goalie George Swindin in the only goal of the match late on.
Arsenal had almost achieved a miracle five minutes earlier when Lishman's header from Cox's corner kick struck the top of the Newcastle crossbar. But it was Newcastle's Cup, and they became the first team to win two seasons running since Blackburn Rovers back in the nineteenth century. There was glory for the losers this time, too.
Clippings