Newcastle United 2 - 0 Aston Villa
Newcastle United
Aston Villa
Wembley Stadium, London, Saturday, 26th April 1924
Attendance:91,695
Match Referee: W. E. Russell
Team Line-ups:
Newcastle United
1 Bill Bradley
2Billy Hampson
3Frank Hudspeth (c)
4 Peter Mooney
5 Charlie Spencer
6Willie Gibson
7 James Low
8Billy Cowan
9Neil Harris
10 Tommy McDonald
11 Stan Seymour
Manager
Selection Committee
Aston Villa
1 Tommy Jackson
2 Tommy Smart
3 Tommy Mort
4 Frank Moss
5 Scotland Vic Milne
6 George Blackburn
7 Richard York
8 Billy Kirton
9 Len Capewell
10 Billy Walker (c)
11 Arthur Dorrell
Secretary-Manager:
Scotland George Ramsay
Match Report
In 1924 Villa still had five players in their side from the victorious team of 1920, and Newcastle sprang a surprise by calling up their reserve goalkeeper, Bradley, on the morning of the match.
On a rain-soaked pitch the play was scintillating from start to finish, and, for the first half at least, Villa appeared to be heading for their seventh Cup Final victory.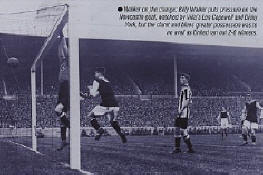 Villa captain Walker collided with a post as he just missed connecting with a cross, and, though Villa continued to hold a slight advantage in some exciting exchanges, the prospect of extra time loomed large.
With eight minutes left, centre‑half Spencer advanced upfield for Newcastle and put Harris through to score with a tremendous shot. Before Villa could recover from the shock, Newcastle had made it 2-0. Seymour, on the left wing, gathered a long pass without breaking stride and slammed another unstoppable shot into the Villa net. It was an exciting finish to an exciting match, and Newcastle had neatly reversed the 1905 result.
A few days prior to the Final, Villa had defeated Newcastle 6-1 in a League match at Villa Park. However, Bradley, Newcastle's inexperienced goalkeeper, had played a hero's game in the Final, keeping Villa's illustrious forward‑line at bay.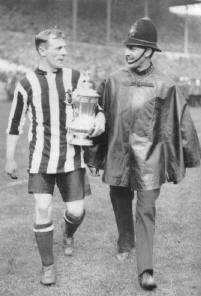 Newcastle's Captain Frank Hudspeth - With Cup & Escort
More Images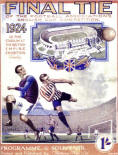 Final Program