Chelsea 2 - 0 Middlesborough
Chelsea

Di Matteo Goal '1
Newton Goal 83'

Middlesborough
Crystal Palace, London, Saturday 20th May 1997
Attendance:79,160
Match Referee:Stephen Lodge
Team Line-ups:
Chelsea
1 Frode Grodås
2Dan Petrescu
3Steve Clarke
4Frank Leboeuf
5Frank Sinclair
6Scott Minto
7Dennis Wise
8 Roberto Di Matteo
9Eddie Newton
10Mark Hughes
11Gianfranco Zola
Manager
Ruud Gullit
Middlesborough
1 Ben Roberts
2 Curtis Fleming
3 Nigel Pearson
4 Gianluca Festa
5 Clayton Blackmore
6 Juninho
7 Robbie Mustoe
8 Emerson
9 Phil Stamp
10 Fabrizio Ravanelli
11 Craig Hignett
Manager
Bryan Robson

Chelsea won the FA Cup for only the second time with two excellent goals but not a lot else. The London team were so superior on the day, they ought to have won a disappointing final with far more style and authority. Middlesbrough, perhaps exhausted at the end of their long and trying season, offered little resistance and while Boro fans were betting on a possible upset, nothing of the sort was clearly on the cards from the whistle.
The game was over almost as soon as it had started, Chelsea's Roberto Di Matteo striking a knockout blow with a stunning goal in record time. Middlesbrough never really recovered from the setback and rarely looked like threatening Ruud Gullit's achievement of becoming the first foreigner to manage an FA Cup-winning team.
Sadly, Gullit's Middlesbrough counterpart, Bryan Robson, is left to pick up the pieces of a shattered and shattering season. It will take a considerable feat of management by him to renew the ambition of the Teesside club after losing two Wembley finals and being relegated to the First Division.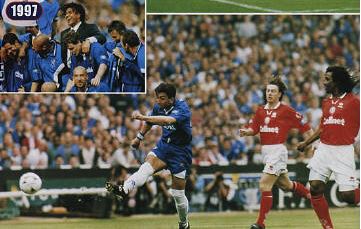 The battle of the two little geniuses, Chelsea's Gianfranco Zola and Middlesbrough's Juninho, did not live up to expectations but was clearly won by Zola. While Juninho struggled to escape the midfield attentions of Di Matteo, rightly voted man of the match, Eddie Newton and Dennis Wise, Zola made his side's second goal and nearly got one himself.
When the teams were finally announced shortly before the kick-off, Mikkel Beck, Middlesbrough's Danish striker, was probably the most disappointed man in the stadium. Bryan Robson chose to sacrifice Beck's striking power for the sake of having Phil Stamp's battling qualities in the crucial, ball- winning area of the field.
The good news for the Middlesbrough fans, of course, was that Fabrizio Ravanelli was regarded as having recovered sufficiently from the back problem which had threatened his appearance in this match. Even so, there had to be an element of risk in selecting someone who had not played since limping out of his club's thrilling 3-3 draw with Manchester United at Old Trafford less than a fortnight earlier.
Like Beck, Chelsea's Gianluca Vialli had nothing to smile about. He, too, was relegated to the substitutes' bench, though that was fully expected after the Italian international's failure to keep Mark Hughes out of the side all season and his well-publicised differences of opinion with Gullit.
Even Vialli's face must have lit up, though, at the sensational start Chelsea made to the match on a hot, humid afternoon. They took the lead in the first minute with a searing shot from Di Matteo. Picking up a pass from Wise, who had won the ball from Robbie Mustoe, the Italy midfielder ran unchallenged from inside his own half before beating Ben Roberts from 25 yards with a shot that dipped wickedly over the young Middlesbrough goalkeeper and went in off the crossbar.
It was a stunning blow made possible not only by Di Matteo's mastery of technique but also the clever, diversionary run by Hughes that removed Nigel Pearson as the last line of a defence.
The goal was timed at 42 seconds, which made it the fastest scored in an FA Cup final this century. It beat by three seconds the goal with which Jackie Milburn put Newcastle ahead against Manchester City in 1955.
Juninho raised Middlesbrough's hopes of an equaliser with a typically astute through ball, but Frode Grodas beat Stamp to it with a well-timed dash from his goal.
Middlesbrough suffered another severe blow after 21 minutes when Ravanelli limped off the field following his unsuccessful attempt to beat Frank Sinclair to a through ball. Obviously, the Italian's recovery had been far from complete in the short time available for convalescence.
Only five minutes after Beck had replaced Ravanelli, Middlesbrough made another substitution, Steve Vickers replacing Mustoe. It was not entirely clear whether Mustoe was injured or simply replaced. At all events, Vickers went into the back-four alongside Pearson, thus releasing Gianluca Festa to take over from Mustoe as the midfield anchorman.
Chelsea's domination of the midfield brought them other scoring chances in the first half. Pearson needed to be at his most alert and determined to head a Dan Petrescu lob off the goal-line, while Roberts had to fling himself across his line to stop Zola increasing Chelsea's lead with more Italian virtuosity at a free-kick.
Yet another of the many Italians on show, Festa, climbed well at the far post to head Stamp's centre past Grodas in stoppage time at the end of the opening 45 minutes, but the defender-turned-midfielder was reduced to arm-waving frustration by the referee's correct decision to disallow the goal for offside.
The second half began unpromisingly, with only the booking of Chelsea's Di Matteo and Middlesbrough's Festa to relieve the tedium. Not until Frank Leboeuf failed to cut out Beck's back-header from Clayton Blackmore's long throw after 64 minutes was there even the sniff of a scoring chance. In the event, Pearson prodded the ball wide. Chelsea's strange unwillingness, for a long time, to go in search of a second, clinching goal encouraged Middlesbrough to go forward but they could not attack with sufficient co-ordination to pierce the Londoners' defence. Now and again, too, Chelsea reminded their opponents of the damage they were capable of inflicting when the spirit moved them.
In one marvellous little cameo, Zola beat three men before cutting back inside from the byline and striking the sort of shot that had sunk England here not so long ago. This time, Roberts avoided the embarrassment suffered by Ian Walker and stopped the ball beating him at his near post - seemingly with his face. Juninho did not have any impact on the match until, perhaps losing his temper, he began a running feud with Leboeuf in the last 20 minutes. Fouled by the French defender, the little Brazilian used a quick free-kick to release Vickers on the left for a shot Grodas saved with his legs as he came off his line.
But Middlesbrough's final, desperate attempt to draw level cost them dear as Chelsea hit them on the break. The ball shuttled between Newton and Petrescu before the Romanian chipped a pass to Zola, running in at the far post. It looked to be going behind him, but the diminutive Italian improvised brilliantly by flicking the ball back with the outside of his right foot.
It was a perfect pass to Newton, following up in the middle of the goalmouth, and all the midfielder had to do was steer the ball into the net with his left foot as it bounced up in front of him. That was the signal for Gullit to let Vialli have his two minutes of fame as substitute for Zola, and for the stadium to fill the overwhelming sound of Blue is the Colour.