Ipswich 1 - 0 Arsenal
Wembley Stadium, London, Saturday 6th May 1978
Attendance:100,000
Match Referee:Derek Nippard
Team Line-ups:
Ipswich
1 Paul Cooper
2George Burley
3Mick Mills (c)
4 Brian Talbot
5 Allan Hunter
6Kevin Beattie
7 Roger Osborne
8John Wark
9Paul Mariner
10 David Geddis
11 Clive Woods
Manager
Bobby Robson
Arsenal
1 Pat Jennings
2 Pat Rice (c)
3 Sammy Nelson
4 David Price
5 David O'Leary
6 Willie Young
7 Liam Brady
8 Alan Sunderland
9 Malcolm Macdonald
10 Frank Stapleton
11 Alan Hudson
Manager
Terry Neill

Arsenal, though strong favourites, soon began to lose their grip on the game after a promising start had seen them gain two corners in the first two minutes. Some of Ipswich's combined movements were a delight to watch, as they gradually overran Arsenal's midfield. Poor Liam Brady, obviously not fully fit, could do nothing right and was substituted after sixty-six minutes.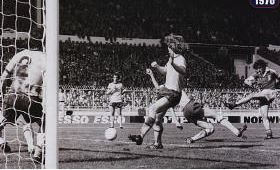 In spite of their ever-increasing superiority, the East Anglians had nothing to show for their efforts at half-time. They finally got the breakthrough with just twelve minutes remaining, but before then Ipswich had deserved to score from each of three brilliant second-half moves. Wark crashed a terrific shot against an upright after Woods had rolled the ball into his path, and then a similar Ipswich attack gave Wark the chance to hit the same post with another effort. Soon afterwards Jennings made the save of the afternoon from Burley's header.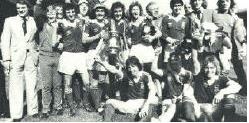 With Ipswich beginning to wonder what they had to do to score, the long-expected goal arrived. Inside-left Geddis ran with the ball from near the half-way line and fooled both Hudson and Nelson by feinting to cut inside and then using a sudden burst of speed to go outside them. Young merely cleared Geddis' low cross as far as Osborne, standing ten yards from goal, and he promptly dispatched the ball into the net.