Sunderland 1 - 0 Leeds United


Wembley Stadium, London, Saturday 5th May 1973


Attendance:100,000
Match Referee:Ken Burns, Stourbridge
Team Line-ups:
Sunderland
1 Jimmy Montgomery
2Dick Malone
3Ron Guthrie
4 Micky Horswill
5 David Watson
6Richie Pitt
7 Bobby Kerr (c)
8Billy Hughes
9Vic Halom
10 Ian Porterfield
11 Dennis Tueart
Manager
Bob Stokoe
Leeds United
1 David Harvey
2 Paul Reaney
3 Trevor Cherry
4 Billy Bremner
5 Paul Madeley
6 Norman Hunter
7 Peter Lorimer
8 Allan Clarke
9 Mick Jones
10 Johnny Giles
11 Eddie Gray
Manager
Don Revie
Match Breakdown
FA Cup Finalists Full Teams in 1973

Leeds United, a team boasting ten internationals, and experienced in the conflicts of First Division and European competition, came to Wembley in 1973 as Cup-holders for their third Final in four years. Sunderland came from the Second Division, and when their new manager Bob Stokoe took over during the season, they were third from bottom. No Second Division side had won the Cup for more than forty years, and very few people outside Sunderland gave them any chance of winning.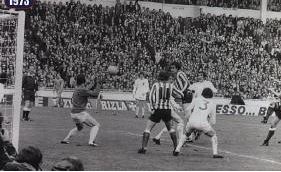 Leeds had their chances, and might have been ahead before Porter-field scored the goal that won the Cup for Sunderland, on the half-hour from H Hughes's corner. As one would have expected, Leeds fought back with a determined assault just before half-time and with increasingly desperate power through the second half.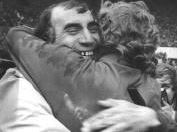 The turning point of the match came in the seventieth minute, when Sunderland goalkeeper Jim Montgomery dived to palm away a header across goal from Cherry - straight into the path of Lorimer, one of the most powerful and accurate shots in the game. Lorimer blasted the ball goalwards, but Montgomery, miraculously, managed to divert the ball on to the underside of the bar. It bounced clear.
There were more anxious moments for Sunderland, but they held out. More than that, Halom almost made it 2-0 in the last seconds, forcing a brilliant save from Harvey.