Tottenham 2 - 0 Leicester City
Tottenham

Smith Goal 66'
Dyson Goal 75'

Leicester City
Wembley Stadium, London, Saturday 2nd May 1961
Attendance:100,000
Match Referee:B. M. Griffiths
Team Line-ups:
Tottenham
1 Bill Brown
2Peter Baker
3Ron Henry
4 Danny Blanchflower (c)
5 Maurice Norman
6Dave Mackay
7 Cliff Jones
8John White
9Bobby Smith
10 Les Allen
11 Terry Dyson
Manager
Bill Nicholson
Leicester City
1 Gordon Banks
2 Len Chalmers
3 Richie Norman
4 Frank McLintock
5 Ian King
6 Colin Appleton
7 Howard Riley
8 Jimmy Walsh (c)
9 Hughie McIlmoyle
10 Ken Keyworth
11 Albert Cheesebrough
Manager
Matt Gillies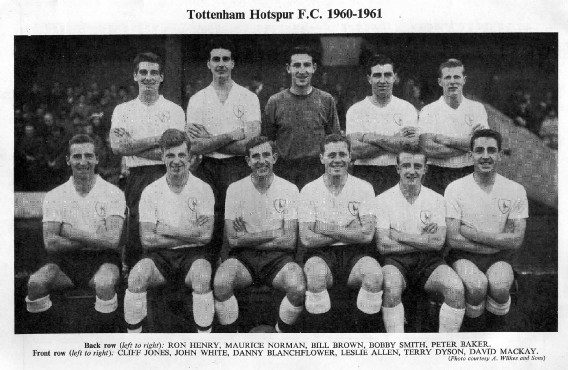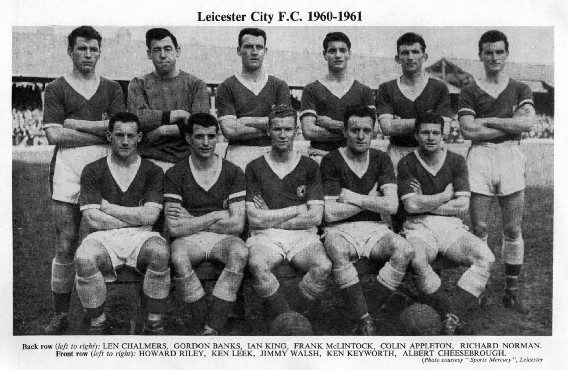 Match Report
Tottenham had made certain of the League championship on 17 April, nineteen days before the Cup Final, defeating their closest rivals Sheffield Wednesday 2-1 at White Hart Lane. But could 'Super Spurs' land the League and Cup double?
Despite an early injury to right‑back Chalmers another victim of the famous 'Wembley hoodoo' Leicester City's rearranged side held their own successfully for forty-five minutes against a Tottenham team hardly recognizable as the one which had attracted over two and a half million fans in a season of sparkling displays. But if Tottenham were disappointing, judged by their own standards, their opponents never really looked like scoring.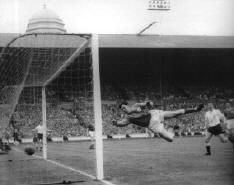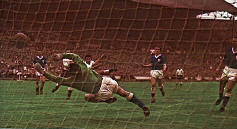 Gordon Banks fails to get to two of the Tottenham Goals
The vital first goal was scored by the hard‑working Bobby Smith. With about twenty-five minutes of the match remaining, he dashed into a vacant space to receive a pass in the inside-right position and hammered in a powerful drive on the half-turn. Seven minutes later, White intercepted a square pass on the half-way line, quickly moved the ball to Smith, and Dyson joyfully raced in to head the far post centre firmly past Banks to make the result, and the 'double', quite certain.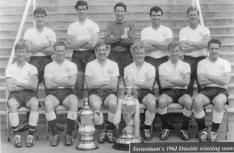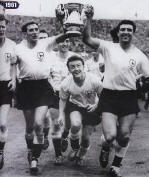 Double Winners - Blanchflower and Smith carry the cup