There was much debate as to whether English football should continue during the time of the first WWI. Nevertheless this didn't deter Sheffield United from recording their third FA Cup final victory. Chelsea had battled their way through to the final as underdogs but couldn't pull off an upset.
Sheffield United 3 - 0 Chelsea
Sheffield United

Simmons 36'
Fazackerley 84'
Kitchen 88'

Chelsea
Old Trafford, Manchester, Saturday, 24th April 1915 (venue switched from London due to the war)
Attendance: 49,557
Match Referee: H. H. Taylor
Team Line-ups:
Sheffield United
GK 1 Harold Gough
FB 2 Billy Cook
FB 3 Jack English
HB 4 Albert Sturgess
CH 5 Bill Brelsford
HB 6 George Utley (c)
OF 7 Jimmy Simmons
IF 8 Stanley Fazackerley
CF 9 Joseph Kitchen
IF 10 Wally Masterman
OF 11 Bob Evans
Manager: John Nicholson
Chelsea
GK 1 Jim Molyneux
FB 2 Walter Bettridge
FB 3 Jack Harrow (c)
HB 4 Fred Taylor
CH 5 Tommy Logan
HB 6 Andy Walker
OF 7 Harry Ford
IF 8 Harold Halse
CF 9 Bob Thomson
IF 10 Jimmy Croal
OF 11 Bob McNeil
Manager: David Calderhead
Road to Wembley:
2 - 1 vs Blackpool (A)
1 - 0 vs Liverpool (H)
1 - 0 vs Bradford (H)
0 - 0 vs Oldham (A)
3 - 0 vs Oldham (A)(R)
2 - 1 vs Bolton Wanderers (Ewood Park, Blackburn)
1st Round
2nd Round
3rd Round
4th Round
S/Finals
1 - 1 vs Swindon Town (H)
5 - 2 vs Swindon Town (A)(R)
1 - 0 vs Arsenal (H)
1 - 0 vs Manchester City (A)
1 - 1 vs Newcastle (H)
1 - 0 vs Newcastle (H)(R)
2 - 0 vs Everton (Villa Park, Birmingham)
Match Breakdown
Sheffield United won the 'Khaki' Final amid controversy as to whether organized football should be continued in time of war. The Football Asso­ciation had decided that it was better to carry on somehow, to provide relief for the workers and the warriors.
In the League. Chelsea struggled for most of the season and finished only one from the bottom. In the Cup, however, they stayed right through to the last hurdle for the first time. It was fifty-five years before they were to reach the Final again.
Nobody had expected Chelsea to do well in the Cup. The players were considered too small - Ford, at 5 ft 7 in, was the tallest of five forwards - to have much chance in the hurly-burly of cup-tie football.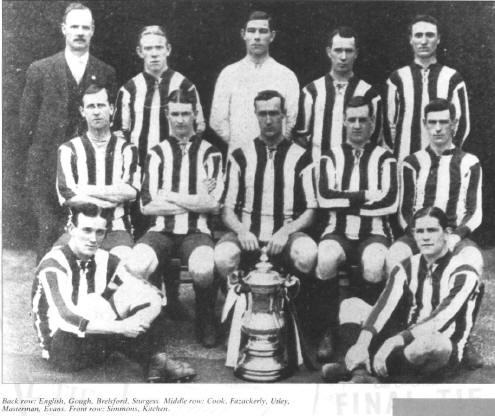 On the grounds that it would otherwise interfere with war work, the Final venue was switched from London to Old Trafford, Manchester. In a one-sided game Chelsea played a long way below their best Cup form.
Molyneux should have prevented Simmons's opener for Sheffield ten minutes before half-time. Yet Chelsea's defence did keep them in with a chance until six minutes from the end. Then Fazackerley and Kitchen added further goals to give Sheffield their third Cup victory.