Crystal Palace - Saturday 10th April
Aston Villa
(Whitehouse; Spencer, Evans; Reynolds, Cowan (Jas.), Crabtree; Athersmith, Devey (J.), Campbell, Wheldon, Cowan (John)
Everton
Menham; Meecham, Storrier; Boyle, Holt, Stewart; Taylor, Bell. Hartley, Chadwick, Milward
Referee: J. Lewis
Attendance : 65,891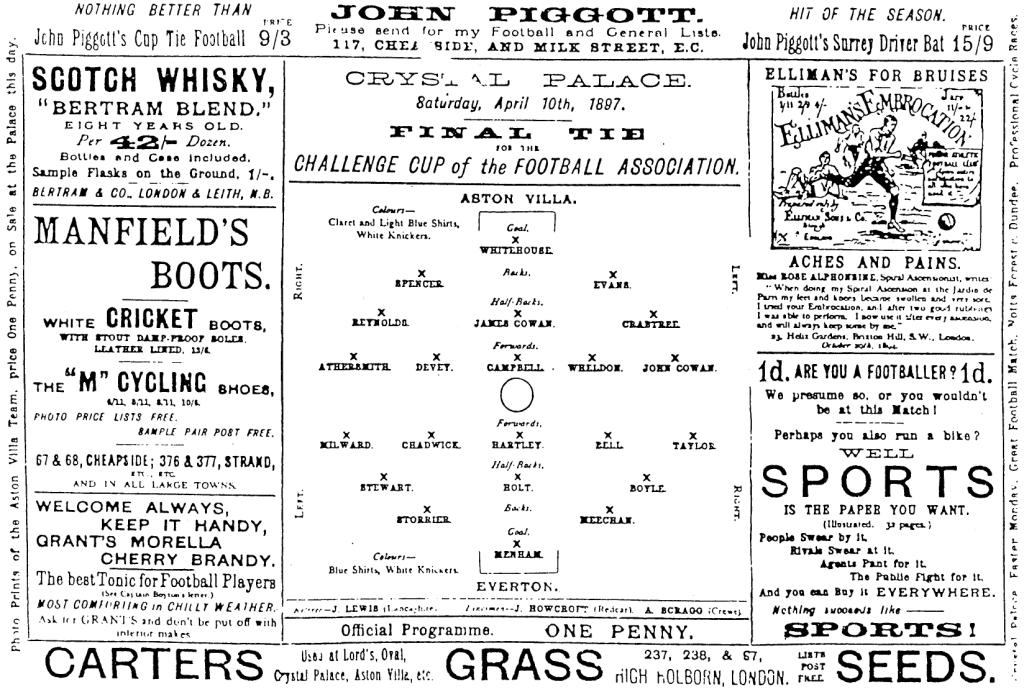 MATCH REPORT
If the first two matches at the Crystal Palace had produced sensational openings, the third was perhaps the greatest Final ever played. Villa that year had taken the League championship by eleven points, and, by also winning the Final 3-2 against Everton, equalled Preston's 'double' feat of 1889. You wouldn't have bet against them before kickoff.
All five goals came within the space of twenty-five minutes before half-time, and the lead changed hands three times. The more consistent Villa played the better football and deserved their victory. Bell played an inspired game for Everton at inside-right, but fate and a wonderful line of half-backs were against them, and Villa took the Cup back to Birmingham for the third time.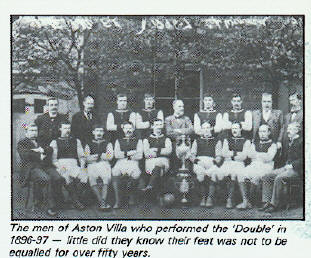 Villa seemed to settle down at once, the half-backs looking far too clever for their opponents. Many times the ball was played up to the front men with tremendous accuracy, and time after time the Villa half-backs broke up an Everton attack. It was all that the stout Everton defence could do to keep the eager Villa forwards at bay. Athersmith twice got into dangerous positions but was forced to shoot from difficult angles and both times the ball went behind.
Villa could not be denied for long, and they scored their first after eighteen minutes. Athersmith and Devey worked their way down the right, and Devey sent Campbell through to fire in a long shot which swerved in the wind and flew into the net giving Menham no chance. Villa kept the advantage for only five minutes. After that a brilliant, high-speed move between Hartley and Bell ended with Bell crashing the ball past Whitehouse from close range.
The game was still less than half an hour old when Everton went 2-1 up. James Cowan gave away a free-kick, and the taker, Boyle, hit it straight into the net.
For ten minutes Everton attacked strongly and looked certain to score a third. Yet, in a match which continued to be played at a dazzling pace, Villa grabbed two goals in the course of five minutes. First Wheldon put the score level from Crabtree's free-kick, and then Villa took the lead for a second time when Athersmith and Reynolds between them won a corner on the right. Reynolds lofted the ball across goal and Crabtree dashed forward, unmarked, to head in.
Whitehouse made two good saves for Villa in the three minutes remain­ing to the interval. The cut and thrust continued throughout the second half, but no further goals were added.
Round By Round
First Round
ASTON VILLA v Newcastle Utd 5-1; Small Heath v Notts Co 1 -2; PNE v Man C 6-0; Stoke v Glossop NE 5-0; Burnley v Sunderland 0-1; Nott'm Forest v Sheff Wed 1-0; LutonT v WBA 0-1; Liverpool v Burton Swifts 4-3; EVERTON v Burton Wand 5-2; Bury v Stockton 0-0. 12-1; Blackburn R v Sheff Utd 2-1; Millwall A v Wolves 1 -2; Derby Co v Barnsley St Peter's 8-1; Bolton Wand v Grimsby T 0-0, 3-3, 3-2; Heanor T v Southampton St Mary's 1-1,0-1; Newton Heath v Kettering 5-1
Second Round
ASTON VILLA v Notts Co 2-1; PNE v Stoke 2-1; Sunderland v Nott'm Forest 1-3; WBA v Liverpool 1 -2; EVERTON v Bury 3-0; Blackburn R v Wolves 2-1; Derby Co v Bolton Wand 4-1; Southampton St Mary's v Newton Heath 1-1,1-3
Third Round
ASTON VILLA v PNE 1 -1,0-0,3-2; Nott'm Forest v Liverpool 1-1,0-1; EVERTON v Blackburn R 2-0; Derby Co v Newton Heath 2-0
Semi FInal
ASTON VILLA v Liverpool 3-0; EVERTON v Derby Co 3-2